Between 14 May 2012 and 22 February 2013 I worked my way through the 196 Sutra of Patanjali. I called the project "A Sutra a Day". I tried to relate each of the Sutra to my life in a personal way. Here are the results.
Click here
Eve Grzybowski
Yoga Suits Her
I've been teaching yoga since 1980. A lot of my identity is tied up with being a yoga teacher. What does that mean? What should that mean? On this site I explore my personal journey and provide commentary on the state of yoga in the twenty-first century. I invite you to have a look and see what may be here for you.
Photo by: Julie Slavin Photography, Old Bar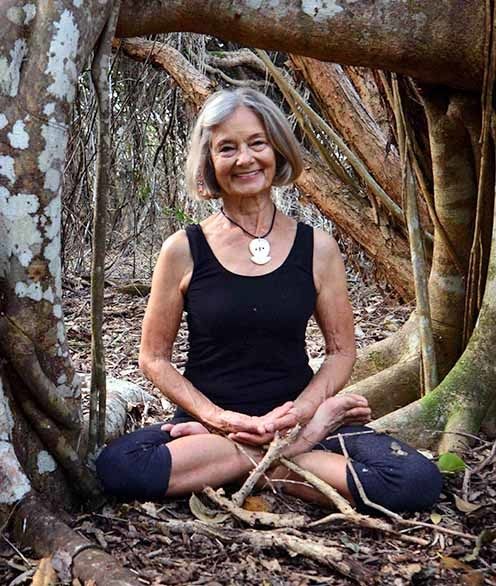 Recent studies show that one of the best ways to stay mentally fit and enjoy a long life is to exercise regularly.
Is a program of asana-based yoga enough to encourage optimum health? Well, that probably depends on whether a component of your practice is aerobic. I would say for the most part, yoga practice does not get an individual's heart rate up, and for many people that isn't the real purpose of yoga anyway.
I've always liked doing sports and exercising, but I admit that in my sexagenarian years, I've become rather more sedentary.
So… recently, I made a decision that, in the spirit of keeping my body and mind flexible, I would try developing a new skill: climbing.
My friend John has built a climbing wall on his covered verandah. It is beautiful, as well as challenging. In the above image, you can see all the colourful hand and foot holds that look like a puppy's squeeze toys. One of the walls slopes in at about a 15 degree angle, which makes it even more difficult than a vertical climb. If you were game and more experienced than I, you could attempt the climb up and over the ceiling, too.
How did the Yogini go?
Because of the fact that I have absolutely no climbing technique, and I also found John's coaching difficult to follow, I used an all too familiar approach. I threw myself at the wall; I grunted; I groaned. I was surprised to hear myself sounding like Serena Williams when she dives for a wicked return.
Was all my overexcitement helpful? I did get to the top of both walls but only because of raw intentionality.
After several go's, my muscles gave out. My spirit was still wanting to attack the wall, but my flesh was pooped. When I looked at some photos that were taken of me, I could see how I looked like a coiled snake.
I've seen people come to yoga classes with the same sort of teeth-clenching determination. I've even been one of them. What is that drive? Is it crazy? Is it the stuff of personal bests? What ever happened to the idea of 'effortless effort'?
Maybe I don't need to know the answer to what makes us push ourselves beyond endurance at times.
I do know that this week I've been out in the Yoga Shed, which doubles as a home gym, doing plank poses, chaturangas, utkatasanas, as well as my version of P90X. More importantly, it's been hugely fun!
And… I know that I and the wall are going to meet again soon.
read more
Recent studies show that one of the best ways to stay mentally fit and enjoy a long life is to exercise regularly.
Is a program of asana-based yoga enough to encourage optimum health? Well, that probably depends on whether a component of your practice is aerobic. […]
read more
On a roll here with my rhymes, so I'll keep them going maybe for one more time. A couple of years back, we felled about 100 pines from the back of our property. I don't mean to offend any tree-lovers; I'm one myself. But this variety of pine is opportunistic and will eventually overtake everything, except the lantana which has an unfortunate (for us) symbiotic relationship with them. A horticulturist recommended planting some grasses and ivies on the slope to save it from sliding into the wetland below. […]
read more
It's been out of print for 15 or more years but now it's back. It's available as a paperback as well as a range of digital formats for different devices. The design of this edition is modelled as closely as possible on the original release from 1997.
(Note: Book retailers set their own prices that are all different and constantly change.  It's worth shopping around for the best price.)
Any bookshop, whether online or bricks and mortar, can order copies of Teach Yourself Yoga.  Just ask and quote ISBN: 978-0-6487945-0-9.
Please send me feedback about the book.  I'd love to hear about any errors or problems with eBooks on various devices.  And please review the book wherever you get it.  Reviews will help more people discover the book.
Yoga Basics Pack. $24.95
10-week beginners Yoga course.
Specially designed for beginners, Yoga Basics is an easy to follow program for better health, flexibility and peace of mind. This pack contains 10 beautifully illustrated cards, one for each week of a ten-week course that tie a clear, practical and portable guide to getting started in yoga.
Yoga Tool Kit. $24.95
10 beautifully illustrated cards that give clear, practical and portable programs to meet a variety of needs. The customised sequences help provide holistic healthcare – better health, flexibility and peace of mind – so you can stay on top of your daily requirements with a safe and effective regime. Practices for boosting the immune system, insomnia, menstruation, post travel, low backache, stress and anxiety relief, fatigue, encouraging mental balance, managing menopause and regenerating.
I'm currently teaching two weekly classes on the Mid-North Coast of New South Wales where I live. I also lead workshops here and in other parts of Australia.
I've been regularly contributing to this blog since 2009.  There are now over 1250 posts about a very wide range of topics. Click here to explore.
Books, videos, teachers, websites, places to buy really hot yoga clothes (kidding), and generally anything I find that I think others might find useful.
I've been teaching since I was 35. I'm now 76. In that time there have been a few changes. Click here if you want to find out a bit about my life.
No, I'm not selling yoga mats or clothing. I don't even have a t-shirt... yet. But from time to time I find myself with something that someone may want. Have a look, I'm never sure what you'll find.
I put this Savasana on YouTube in 2012.
Since then it has been viewed (or listened to) over 365,000 times.