Between 14 May 2012 and 22 February 2013 I worked my way through the 196 Sutra of Patanjali. I called the project "A Sutra a Day". I tried to relate each of the Sutra to my life in a personal way. Here are the results.
Click here
Eve Grzybowski
Yoga Suits Her
I've been teaching yoga since 1980. A lot of my identity is tied up with being a yoga teacher. What does that mean? What should that mean? On this site I explore my personal journey and provide commentary on the state of yoga in the twenty-first century. I invite you to have a look and see what may be here for you.
Photo by: Julie Slavin Photography, Old Bar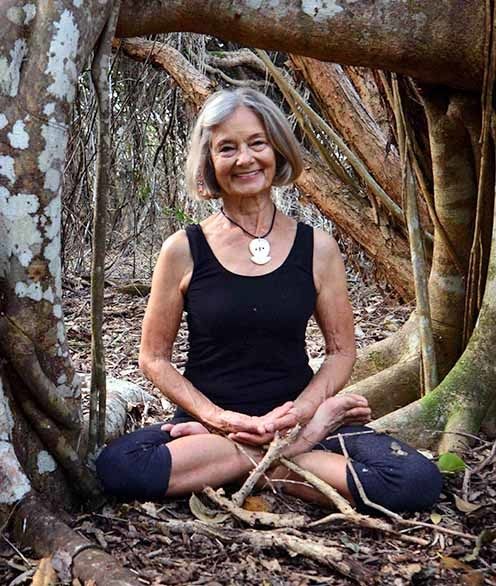 How is learning yoga like learning to Sing?
If I had a dollar for every time someone said do me, 'I can't do yoga, I'm too stiff,' I would be a wealthy woman.
You could substitute any of these words--'old', 'fat', 'nervous', 'anxious', 'tired', 'busy'--for stiff. It all amounts to the same thing. People have an idea in mind of what yoga is, what it looks like, who can do it and who can't. An old person even said to me once, 'What's the point, I'm going to die anyway.' (I taught her for a few years, and, fortunately, she's still alive.)
Where do people get their ideas? Often through social media. These days, Instagram and Facebook carry much responsibility for publishing impossibly beautiful and youthful images of people doing yoga. Discouraging to anyone who is trepidatious about taking up yoga in the first place.
Video classes may present a further barrier to those who can't keep up with the intermediate and advanced poses and routines they see offered.
I guess I'm talking about lack of accessibility and inclusion: the teacher presenting content in such a way that the student feels discouraged about learning. And the possibility that the student will be burdened with the teacher's expectations as well as their their own.
This topic feels immediate for me as I've ventured into learning to sing. I'm pretty much a beginner, but one who comes with her own baggage and lack of confidence. This may sound odd considering I've been a member of a community choir for nearly ten years. But I've always thought of myself as an adjunct to the choir, not an essential member.
Furthermore, I haven't considered myself a real singer. A real singer goes around humming little hums in tune, singing along in perfect pitch with Spotify and generally unafraid of hearing their own voice. Not me.
Until now.
A timely message
In the way that a kind and very experienced yoga teacher would present information to a shy and nervous beginner, choir director, performer and singing teacher, Rose Wilson, has offered me an entry point to singing. She says on her website that 'she teaches singing unscarily to curious and longing-to-sing souls'. That's me, a person who's always wanted to sing out loud but felt inhibited.
After several lessons with Rose, we got to the crux of the matter...this business about not thinking I am a singer. Like those stiff, overweight, old, too busy, too tired people, I had placed myself outside of the club. When I aired what felt was a secret I'd kept all my life, she came back with the most beautiful declaration, which explained how I'd taken an unskillful turn at some point in my life. Was it in 3rd grade music class? My teacher didn't say I wasn't allowed to sing, but she did say I was to mouth the words.
In effect, Rose's pep talk reminded me that I am allowed to sing, that I am allowed to learn to sing. She said:
Whether you are any good or not, whether you get better, whether you take it seriously or not, it's not a product to be commodified or to perfect, and then to present, and for people to consume and critique. It's not an exclusive thing. It's something that you do to connect and express. It's cathartic. It's beautiful. It's meaningful.
I'm coming at singing differently now. It's a lovely thing for me. It's a means of self-expression. I don't even have to have reasons for doing it.
So much of the way our culture works is about improvement and competency. I'm not saying those are bad things. But they can potentially rob us of experiencing the simple joy of being alive.
As a beginner, yoga snuck up on me. It provided enjoyment from the very first class, more than 50 years ago. Rose and I are singing from the same hymn book when we teach, whether the sort of self-expression is yoga, or singing, or writing or painting.
You are allowed!
Here's a little video clip of Rose encouraging me:
read more
Where do people get their ideas? Often through social media. These days, Instagram and Facebook carry much responsibility for publishing impossibly beautiful and youthful images of people doing yoga. Discouraging to anyone who is trepidatious about taking up yoga in the first place.
read more
There have been many markers that show I've moved with technological advances, but none so compelling as the ones I've encountered in lockdown. Where would we be without the video communication apps that seem to have spread almost as rapidly as the Delta variant. 
While we were in last year, 2020, many of us were thinking/hoping that in 2021, we would be free. Back in offices, back in yoga studios, back in theatres, back in airplanes. But no. Here we are in Australia, and for the most part we are sheltering in place.
read more
It's been out of print for 15 or more years but now it's back. It's available as a paperback as well as a range of digital formats for different devices. The design of this edition is modelled as closely as possible on the original release from 1997.
(Note: Book retailers set their own prices that are all different and constantly change.  It's worth shopping around for the best price.)
Any bookshop, whether online or bricks and mortar, can order copies of Teach Yourself Yoga.  Just ask and quote ISBN: 978-0-6487945-0-9.
Please send me feedback about the book.  I'd love to hear about any errors or problems with eBooks on various devices.  And please review the book wherever you get it.  Reviews will help more people discover the book.
Yoga Basics Pack. $24.95
10-week beginners Yoga course.
Specially designed for beginners, Yoga Basics is an easy to follow program for better health, flexibility and peace of mind. This pack contains 10 beautifully illustrated cards, one for each week of a ten-week course that tie a clear, practical and portable guide to getting started in yoga.
Yoga Tool Kit. $24.95
10 beautifully illustrated cards that give clear, practical and portable programs to meet a variety of needs. The customised sequences help provide holistic healthcare – better health, flexibility and peace of mind – so you can stay on top of your daily requirements with a safe and effective regime. Practices for boosting the immune system, insomnia, menstruation, post travel, low backache, stress and anxiety relief, fatigue, encouraging mental balance, managing menopause and regenerating.
I'm currently teaching two weekly classes on the Mid-North Coast of New South Wales where I live. I also lead workshops here and in other parts of Australia.
I've been regularly contributing to this blog since 2009.  There are now over 1250 posts about a very wide range of topics. Click here to explore.
Books, videos, teachers, websites, places to buy really hot yoga clothes (kidding), and generally anything I find that I think others might find useful.
I've been teaching since I was 35. I'm now 76. In that time there have been a few changes. Click here if you want to find out a bit about my life.
No, I'm not selling yoga mats or clothing. I don't even have a t-shirt... yet. But from time to time I find myself with something that someone may want. Have a look, I'm never sure what you'll find.
I put this Savasana on YouTube in 2012.
Since then it has been viewed (or listened to) over 365,000 times.