Between 14 May 2012 and 22 February 2013 I worked my way through the 196 Sutra of Patanjali. I called the project "A Sutra a Day". I tried to relate each of the Sutra to my life in a personal way. Here are the results.
Click here
Eve Grzybowski
Yoga Suits Her
I've been teaching yoga since 1980. A lot of my identity is tied up with being a yoga teacher. What does that mean? What should that mean? On this site I explore my personal journey and provide commentary on the state of yoga in the twenty-first century. I invite you to have a look and see what may be here for you.
Photo by: Julie Slavin Photography, Old Bar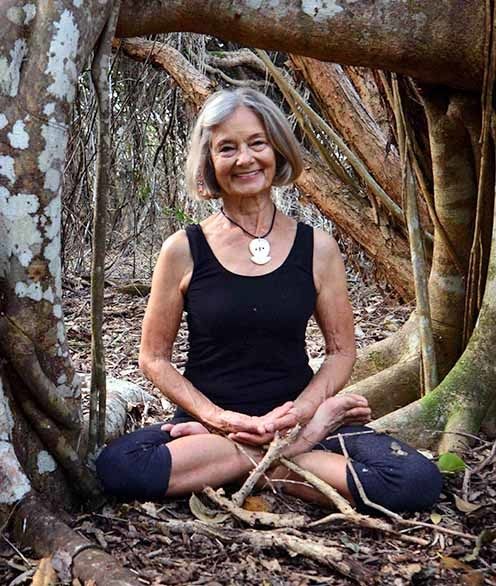 What is a legacy?
I was hanging out with a dear friend recently and told her that I was pulling together a collection of my yoga classes for my YouTube channel. I referred to what I'd done as creating a kind of legacy. She looked horrified, as though I was imminently going to shuffle off this mortal coil.
I definitely am not about to, but this exchange had me scurry to my Merriam-Webster to find out exactly what the word means. My friend and I were both on the right track. The first definition of the word is 'bequest', which suggests a gift of money or property that is transmitted through a will.
In a broader sense, while a person's legacy can indeed involve money or property, the idea of legacy has come to mean much more. It is about the richness of a person's life, for example, accomplishments and impact. The story of a person's life reflects their legacy, and since we all have a life story, this means we will all have a legacy to bequeath. (It should be noted, though, that the legacy one leaves behind can be a negative one, as well.)
A 'Living Legacy'
I started to think in this broader meaning of legacy when I turned sixty. I decided that my ensuing years could increasingly be about contributing to society and my communities, although I'd already been doing this to a certain extent. Any yoga teacher of long-standing, or a teacher trainer/mentor is a contributor. I started blogging about yoga and life which extended my reach into the community. I began drawing together a group of yoga teachers when I moved out of Sydney to regional NSW. I began volunteering at the Mitchells Island School and in palliative care.
Orienting myself towards finding contributing has meant that I keep looking for opportunities. This last year I was a judge for the 'Tell Me a Story' competition for primary school kids in the district.
While we were in COVID lockdown last year, I completed my memoir/autobiography. Perhaps this will be a way that my son, stepson and grandkids will get understand how important it is to have a legacy. The memoir is a collection of family stories, as well as my journey of healing. I wish I had this sort of record from my parents who both died at relatively young ages.
Back to my YouTube channel collection, it is still modest in size, but COVID has given me another leg-up. A couple of months ago in yet another lockdown, I started zoom classes. Besides the delight of putting me in contact with the students I had previously taught in Sydney, I discovered that I like this medium. I've met some new people on zoom, too. It's so easy to record the sessions. Local students have been willing to attend hybrid sessions, whereby they can be present in the studio while I'm zooming.
My YouTube channel includes some lovely meditations that I've recorded, Susan Stott's pentatonic harp music, short tutorials and even a tour of the Yoga Shed and our gardens.
If the idea of creating a living legacy for yourself appeals, here's a link to a website called 'Bestow' that will help inspire and organise you.
The latter part of life doesn't have to be all about giving. Creating a fulfilling life means ticking items off the bucket list. My husband and I have a lengthy caravan trip planned that will take us all around Australia: the Top End, the Kimberley coast, the whale sharks of Ningaloo reef, Margaret River and the Nullabor Plain and more.
Have I whet your appetite?
I think that any good legacy should should include elements of adventure!
read more
I was hanging out with a dear friend recently and told her that I was pulling together a collection of my yoga classes for my YouTube channel. I referred to what I'd done as creating a kind of legacy. She looked horrified, as though I was imminently going to shuffle off this mortal coil.
read more
Where do people get their ideas? Often through social media. These days, Instagram and Facebook carry much responsibility for publishing impossibly beautiful and youthful images of people doing yoga. Discouraging to anyone who is trepidatious about taking up yoga in the first place.
read more
It's been out of print for 15 or more years but now it's back. It's available as a paperback as well as a range of digital formats for different devices. The design of this edition is modelled as closely as possible on the original release from 1997.
(Note: Book retailers set their own prices that are all different and constantly change.  It's worth shopping around for the best price.)
Any bookshop, whether online or bricks and mortar, can order copies of Teach Yourself Yoga.  Just ask and quote ISBN: 978-0-6487945-0-9.
Please send me feedback about the book.  I'd love to hear about any errors or problems with eBooks on various devices.  And please review the book wherever you get it.  Reviews will help more people discover the book.
Yoga Basics Pack. $24.95
10-week beginners Yoga course.
Specially designed for beginners, Yoga Basics is an easy to follow program for better health, flexibility and peace of mind. This pack contains 10 beautifully illustrated cards, one for each week of a ten-week course that tie a clear, practical and portable guide to getting started in yoga.
Yoga Tool Kit. $24.95
10 beautifully illustrated cards that give clear, practical and portable programs to meet a variety of needs. The customised sequences help provide holistic healthcare – better health, flexibility and peace of mind – so you can stay on top of your daily requirements with a safe and effective regime. Practices for boosting the immune system, insomnia, menstruation, post travel, low backache, stress and anxiety relief, fatigue, encouraging mental balance, managing menopause and regenerating.
I'm currently teaching two weekly classes on the Mid-North Coast of New South Wales where I live. I also lead workshops here and in other parts of Australia.
I've been regularly contributing to this blog since 2009.  There are now over 1250 posts about a very wide range of topics. Click here to explore.
Books, videos, teachers, websites, places to buy really hot yoga clothes (kidding), and generally anything I find that I think others might find useful.
I've been teaching since I was 35. I'm now 76. In that time there have been a few changes. Click here if you want to find out a bit about my life.
No, I'm not selling yoga mats or clothing. I don't even have a t-shirt... yet. But from time to time I find myself with something that someone may want. Have a look, I'm never sure what you'll find.
I put this Savasana on YouTube in 2012.
Since then it has been viewed (or listened to) over 365,000 times.