Between 14 May 2012 and 22 February 2013 I worked my way through the 196 Sutra of Patanjali. I called the project "A Sutra a Day". I tried to relate each of the Sutra to my life in a personal way. Here are the results.
Click here
Eve Grzybowski
Yoga Suits Her
I've been teaching yoga since 1980. A lot of my identity is tied up with being a yoga teacher. What does that mean? What should that mean? On this site I explore my personal journey and provide commentary on the state of yoga in the twenty-first century. I invite you to have a look and see what may be here for you.
Photo by: Julie Slavin Photography, Old Bar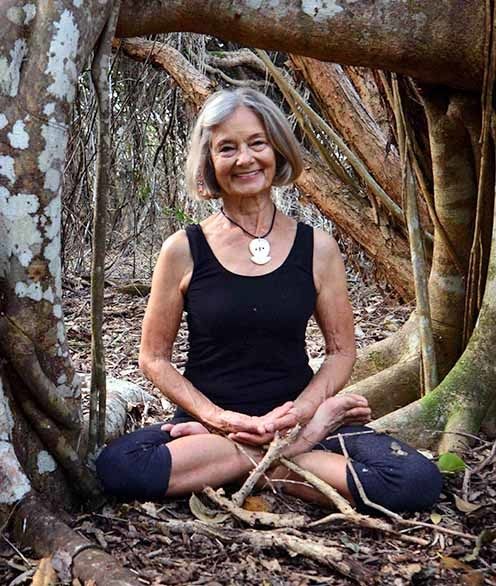 In the past I haven't shown up here as a political commentator or even particularly opinionated on current topics. But always always I've been a proponent of everything that supports the highest good of the community. Increasingly I'm aware that the way you and I can support our communities at this time is to get vaccinated against the worldwide plague that is COVID-19. The sooner, the better.
So, in this guest post, Daniel Weinstein (my husband), makes the case for protecting yourself, family, friends and your community by getting vaccinated. I believe this must be done, even though it may be taking a position that alienates some of my yoga family.
---
Being anti-vax doesn't mean what it used to mean
I've been pro-vax since I got the Sabin polio vaccine in a sugar cube in the 1950s. They made sense to me then. As I learned more about science they made more sense. As I learned about history and public health they made even more. Vaccination is the single most successful public health activity there has ever been. Many millions of lives have been saved and untold human suffering avoided.
I know some of you don't agree with me. I don't want to convince anyone of anything in this article. Of course, if you're open to being convinced we can talk later. For now I want to comment on how the anti-vaccination movement has been changed by COVID-19.
In order to avoid doing a whole lot of unnecessary typing I'm going to use the acronym "AV" for the term anti-vaccination or anti-vaxxer.
It seems to me that the AV movement has been changing into something different. Something more disturbing than it was, and it has always been disturbing.
The AV movement has existed since the very first vaccine was introduced by Edward Jenner in 1796. It's been with us since the beginning. It's always been a conspiracy theory that "they" (insert a "they" of your choice) want to do bad things (think microchip) to you for murky reasons.
The modern AV movement, pre-COVID-19, was opposed to some or all vaccines because… well, just because. Their reasoning and motives aren't relevant to this discussion. One of the strongest drivers of the AV movement was actually the remarkable success of vaccines. Deadly childhood diseases have been mostly eliminated in the western world. Smallpox completely eliminated. Polio nearly eliminated. Most of the childhood diseases that I lived through are now quite rare.
In the face of diseases that no one sees anymore it's easy, and often attractive, to argue that even the minuscule risk of a vaccine is unwarranted. For their children. Everyone wants what's best for their children. Scare stories about vaccines causing autism (they don't) sound a great deal riskier than diseases they've never seen.
The AV movement was really about denying that children were at risk from disease and somehow protecting them from vaccines. And the AV movement has had some success. By decreasing the vaccination rate they managed to bring back measles. I don't know if they are proud of that success or not. Many AVers I've talked to seem to love the idea of kids catching diseases so that they can get "natural immunity". So maybe they are proud of bringing back measles. It's hard to say.
While there are a few adult vaccines around, the AV movement has been mostly about children. The AVers themselves were fine. Other than avoiding a flu vaccine and maybe shingles they weren't arguing on their own behalf. Their argument was always about protecting children from diseases that vaccination had rendered rare. Lives were on the line, but not that many lives, and not the AVers themselves. Usually just the kids.
The AV movement that has developed since the introduction of the various COVID-19 vaccines seems to me to be a completely different animal.
Here's how it's different
It's not about the kids (yet).




So far COVID-19 has not been attacking children, though new variants may change that. Vaccines for children are not yet approved so there's no question of vaccinating children at this time.

It's allied with an extreme right wing political ideology.




If you call Trumpism an ideology.

The disease in question is not rare.




In Australia it's still rare, but if AVers and anti-maskers have their way it will soon be as common as it is in much of the world.
The AVers are paying a price for their beliefs
In the US, where both COVID-19 and vaccines are common, people who are being hospitalised and dying are almost all un-vaccinated.
More than 99 percent of the nearly 10,000 U.S. COVID-19 deaths that occurred in June were among unvaccinated people, according to Anthony Fauci, MD, director of the National Institute of Allergy and Infectious Diseases.
Unvaccinated people, probably including actively AV people, are getting horribly sick and are dying. This is something new. AVers are no longer safely hiding behind their children. They are in the front lines. The AV movement is becoming a suicide cult. This is worthy of a Darwin Award on a huge scale.
In the USA COVID-19 is already being referred to as a "pandemic of the unvaccinated". Since the vaccines work as advertised, only the unvaccinated are suffering and dying. The coming of the Delta variant has meant that more young people are getting sick. Variants to follow sound like they could be worse than Delta.
Until enough of us are vaccinated COVID-19 is going to keep getting in the way of living our lives. But that's not likely to happen. The committed AVers and the political AVers are determined to keep COVID-19 circulating in our world. Most of us will get vaccinated and we'll be Ok, but people we care about who've drunk the AV Kool-Aid are likely to suffer greatly for their beliefs. And they'll share that suffering with other vulnerable people who for one reason or another cannot be vaccinated. The outlook is not good.
At the top of this article is a picture of me in a T-shirt I bought a few years ago. Until this year I didn't wear it because someone said it might be offensive to a few of our friends. Now I can't imagine why that would matter.
If you're on the fence about getting vaccinated, just do it. My cousin in America died of COVID-19. It's a horrible death. Protect yourself and by protecting yourself you will be protecting your family, friends and your community. It really is the right thing to do.
read more
In the past I haven't shown up here as a political commentator or even particularly opinionated on current topics. But always always I've been a proponent of everything that supports the highest good of the community. Increasingly I'm aware that the way you and I can...
read more
At the beginning of 2020, I took on a powerful resolution: I would do a daily loving kindness meditation. I love this practice as a way of healing not just me, but all beings and the planet too. It's a way of expanding the field of love and kindness on the planet. Never was it a more necessary practice than right now.
read more
It's been out of print for 15 or more years but now it's back. It's available as a paperback as well as a range of digital formats for different devices. The design of this edition is modelled as closely as possible on the original release from 1997.
(Note: Book retailers set their own prices that are all different and constantly change.  It's worth shopping around for the best price.)
Any bookshop, whether online or bricks and mortar, can order copies of Teach Yourself Yoga.  Just ask and quote ISBN: 978-0-6487945-0-9.
Please send me feedback about the book.  I'd love to hear about any errors or problems with eBooks on various devices.  And please review the book wherever you get it.  Reviews will help more people discover the book.
Yoga Basics Pack. $24.95
10-week beginners Yoga course.
Specially designed for beginners, Yoga Basics is an easy to follow program for better health, flexibility and peace of mind. This pack contains 10 beautifully illustrated cards, one for each week of a ten-week course that tie a clear, practical and portable guide to getting started in yoga.
Yoga Tool Kit. $24.95
10 beautifully illustrated cards that give clear, practical and portable programs to meet a variety of needs. The customised sequences help provide holistic healthcare – better health, flexibility and peace of mind – so you can stay on top of your daily requirements with a safe and effective regime. Practices for boosting the immune system, insomnia, menstruation, post travel, low backache, stress and anxiety relief, fatigue, encouraging mental balance, managing menopause and regenerating.
I'm currently teaching two weekly classes on the Mid-North Coast of New South Wales where I live. I also lead workshops here and in other parts of Australia.
I've been regularly contributing to this blog since 2009.  There are now over 1250 posts about a very wide range of topics. Click here to explore.
Books, videos, teachers, websites, places to buy really hot yoga clothes (kidding), and generally anything I find that I think others might find useful.
I've been teaching since I was 35. I'm now 76. In that time there have been a few changes. Click here if you want to find out a bit about my life.
No, I'm not selling yoga mats or clothing. I don't even have a t-shirt... yet. But from time to time I find myself with something that someone may want. Have a look, I'm never sure what you'll find.
I put this Savasana on YouTube in 2012.
Since then it has been viewed (or listened to) over 365,000 times.