Between 14 May 2012 and 22 February 2013 I worked my way through the 196 Sutra of Patanjali. I called the project "A Sutra a Day". I tried to relate each of the Sutra to my life in a personal way. Here are the results.
Click here
Eve Grzybowski
Yoga Suits Her
I've been teaching yoga since 1980. A lot of my identity is tied up with being a yoga teacher. What does that mean? What should that mean? On this site I explore my personal journey and provide commentary on the state of yoga in the twenty-first century. I invite you to have a look and see what may be here for you.
Photo by: Julie Slavin Photography, Old Bar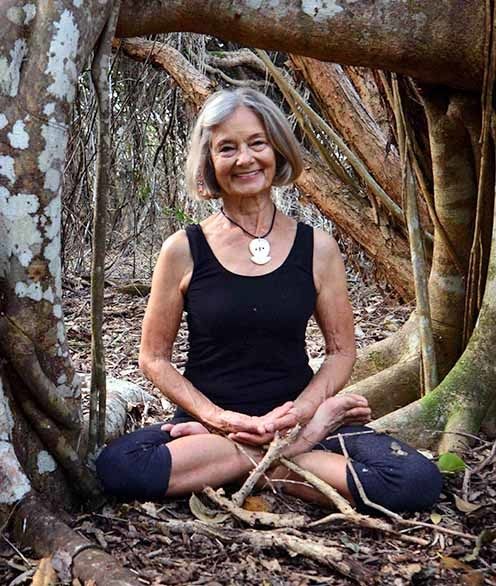 Featured videos from my YouTube channel
I've been adding meditations, short instructional video and an ever-growing selection of complete yoga classes. Click on any of these below videos to view them directly. Or click on the button below to explore the entire channel.
If you would like to make a donation to my continuing to create my videos and recordings, please click HERE.
All of my videos are also available on this website.


Ever heard of the Shedders?
If you really knew me, you would know I'm a community junkie. I've created several yoga communities over the almost 40 years that I've been teaching yoga. I'm part of the Manning Valley singing community and perform with the Wingsong Choir. As well, I participate in activities at the Mitchells Island community hall, the public school and the Yoga Shed. I work as a volunteer in the midcoast Palliative care community. And belong to book clubs and writing groups, too.
It makes sense then that I would live communally too. We call our small 'intentional community' the Shedders, comprised of three couples living under one roof. We arrived at our name partly because of the big green shed on our property. And partly because we had to shed so much stuff just to be able to fit into one house. My housemate, Michael, named us in 2005, and the name has stuck.
The media has been interested in what we've achieved as seniors living communally. You could google 'Shedders ABC' or 'Shedders Sydney Morning Herald' or 'Shedders Judith Lucy' and see what comes up.
Some hits you'll get when you put Shedders in your browser are links to my housemate Heather's blog, as well as her ebook, Shedders. Heather has chronicled the early part of our adventure in living in her excellent book about learning to live menage-a-three-couples.

Shedders community scores well
Heather was asked to present our story at a Bellingen forum a while back called 'Affordable Housing Local Solutions'. She spoke about the Shedders' innovative approach to housing and said there was much to recommend it.
In Heather's words:
Some 17 years ago, when we first began talking about our vision of sharing retirement together, our conversations centered around three things. We wanted to avoid isolation as we age, to stretch our retirement dollars as far as possible, and to provide support for each other through tough times.
How has that gone?
Shared finances. My husband, Rick, and I live in a beautiful home on a 4-acre lot with sweeping views, near the ocean. We travel overseas several months every year. Living in common with the other Shedders, we have been able to consolidate equipment and appliances, for instance, one ride-on mower, one chain saw, one whipper snipper, one washing machine, one dishwasher. We enjoy quality meals every night of the week, as we share cooking and buy in bulk when we can. Rick and I could not have afforded this lifestyle on our own nest egg. This community has saved us hundreds of thousands of dollars and let us live more lightly on the planet. 9 out of 10 for this one.
Mutual support. I experience day-to-day support in our Shedder environment. Sometimes it's a helping hand with something I'm doing, sometimes it's a cup of tea or a "How's it going?" On a more intense scale, over the time we've been together, three of us have had major surgeries. A steady flow of support has meant that there's never been one over-worked spouse who has to carry the whole burden. We've been there for each other. 9.5 out of 10.
Avoiding isolation. Unless someone is away, we see each other daily. Mostly we dine together in the evenings. We share a strong interest in yoga, in choral singing, in books, in palliative care, in gardening, in cooking. Not only that, but these shared interests lead us into larger communities – the yoga classes, choir workshops, the garden club, the palliative care community – that fill our lives to the brim. We are about as un-isolated as people can be. 10 out of 10 on this one.
We Shedders have invented our own future, and we like it. Anyone could do it.
read more
Ever heard of the Shedders? If you really knew me, you would know I'm a community junkie. I've created several yoga communities over the almost 40 years that I've been teaching yoga. I'm part of the Manning Valley singing community and perform with the Wingsong Choir....
read more
Recently I learned (or learned for the 1,000th time) a Be Kind to Yourself lesson.If you're like me, you don't learn these vital life lessons easily. This is why long life can be a good thing. Because you can buy a little more time, and hopefully more wisdom.Recently I was on a two-day boat trip with nine other people. After the first day, one of the passengers got on my nerves. Seriously. A sailing boat doesn't have much room for seclusion. […]
read more
It's been out of print for 15 or more years but now it's back. It's available as a paperback as well as a range of digital formats for different devices. The design of this edition is modelled as closely as possible on the original release from 1997.
(Note: Book retailers set their own prices that are all different and constantly change.  It's worth shopping around for the best price.)
Any bookshop, whether online or bricks and mortar, can order copies of Teach Yourself Yoga.  Just ask and quote ISBN: 978-0-6487945-0-9.
Please send me feedback about the book.  I'd love to hear about any errors or problems with eBooks on various devices.  And please review the book wherever you get it.  Reviews will help more people discover the book.
Yoga Basics Pack. $24.95
10-week beginners Yoga course.
Specially designed for beginners, Yoga Basics is an easy to follow program for better health, flexibility and peace of mind. This pack contains 10 beautifully illustrated cards, one for each week of a ten-week course that tie a clear, practical and portable guide to getting started in yoga.
Yoga Tool Kit. $24.95
10 beautifully illustrated cards that give clear, practical and portable programs to meet a variety of needs. The customised sequences help provide holistic healthcare – better health, flexibility and peace of mind – so you can stay on top of your daily requirements with a safe and effective regime. Practices for boosting the immune system, insomnia, menstruation, post travel, low backache, stress and anxiety relief, fatigue, encouraging mental balance, managing menopause and regenerating.
I'm currently teaching two weekly classes on the Mid-North Coast of New South Wales where I live. I also lead workshops here and in other parts of Australia.
I've been regularly contributing to this blog since 2009. There are now over 1250 posts about a very wide range of topics. Click here to explore.
Books, videos, teachers, websites, places to buy really hot yoga clothes (kidding), and generally anything I find that I think others might find useful.
I've been teaching since I was 35. I'm now 76. In that time there have been a few changes. Click here if you want to find out a bit about my life.
No, I'm not selling yoga mats or clothing. I don't even have a t-shirt... yet. But from time to time I find myself with something that someone may want. Have a look, I'm never sure what you'll find.