Between 14 May 2012 and 22 February 2013 I worked my way through the 196 Sutra of Patanjali. I called the project "A Sutra a Day". I tried to relate each of the Sutra to my life in a personal way. Here are the results.
Click here
Eve Grzybowski
Yoga Suits Her
I've been teaching yoga since 1980. A lot of my identity is tied up with being a yoga teacher. What does that mean? What should that mean? On this site I explore my personal journey and provide commentary on the state of yoga in the twenty-first century. I invite you to have a look and see what may be here for you.
Photo by: Julie Slavin Photography, Old Bar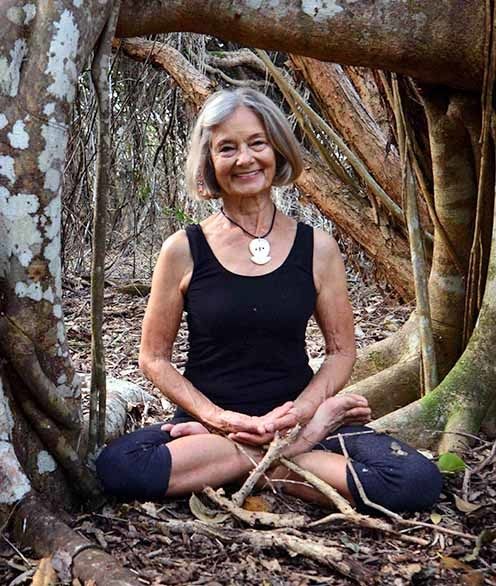 'Interconnection is the key. Science shows us this. Economics shows us this. Environmental consciousness certainly shows us this. Epidemiology shows us this. What happens over there doesn't necessarily stay there, it ripples out over here. What we do, what we care about, what we devote ourselves to, it matters. All of that will ripple out along these strands of interconnection.'

--from 'Mindfulness@Home with Sharon Salzberg
Community Building
Having joined the world of yogis and yoga has meant I've enjoyed the advantages of community for most of my adult life. I've befriended and been involved with members of various yoga communities starting in the seventies: Satyananda, Oki, Iyengar, Ashtanga, Desikachar, IYTA. And nowadays, there are so many more circles of yoga: Synergy, Power Vinyasa, Purna Yoga, all the styles named after their creators, and all the ones named after geographic locations or Hindu gods or goddesses.
My friend, Collyn, came up with the term non-denominational yoga, and I believe that's the kind I teach. That makes me unaffiliated, except for my membership in the Yoga Australia association, which is a nationwide community.
While I lived and taught in Sydney, I started a beautiful community ritual where teachers from different traditions came together once a week to practice. It was very democratic; each week a different member of the group would lead our practice and share from their own experience their skills and knowledge. Afterwards, we would go out for breakfast and coffee, share our gossip and get to know each other better.
When I moved to Mitchells Island, little by little, I got to meet a completely new group of teachers. Fortunately, we were able to create a new community of once-a-month yoga teacher practitioners. This group has been meeting for several years now. Sometimes we are a bigger cohort of say, 16, and sometimes just 4 or 5. We rotate the venue so each teacher who leads can be on their 'home turf'. During the lockdown in 2020, we tried to do zoom connections but it was just too hard.
Community Division
Lately, I've been saddened by the approach to COVID-19 that some yoga teachers in my local community and in wider communities have taken regarding wearing masks and getting vaccinated. In an on-line BBC article, I read about the contingent of teachers who are anti-masks, anti-vax and even subscribe to QAnon conspiracy theories.
In my studio, The Yoga Shed, the students and I wear masks and subscribe to social distancing. I encourage anyone to get the 'jab' as soon as possible for the sake of all of us.
There have always been factions in the yoga world, but the divisiveness that I see now is not about soft yoga vs. hard yoga or hatha yoga vs. raja yoga or your guru vs. my guru. It may amount to a choice between life and death. It looks to me more about sacrificing righteous and patently unscientific views for the good of the community.
The following are the Australian Government Department website's benefits of getting vaccinated.
Vaccinations are proven to be the most effective way to protect against infectious diseases.
Vaccines strengthen your immune system by training it to recognise and fight against viruses.
When you get vaccinated, you are protecting yourself and helping to protect the whole community.
I know some of my friends and colleagues are still on the fence, ostensibly waiting for the vaccines to be proven safe. If you are waiting, as my husband wrote in a recent 'Yoga Suits Her' post, just do it! The time is past for waiting. As of today 15% of the world population has been fully vaccinated, well over a billion people.
I would ask you to get the 'jab' for my sake, yours and ours.
read more
Vaccinations are proven to be the most effective way to protect against infectious diseases. 
Vaccines strengthen your immune system by training it to recognise and fight against viruses. 
When you get vaccinated, you are protecting yourself and helping to protect the whole community.
read more
Next year marks the 50th year that I've been practising yoga.
Sometimes when I say that to students in class, I'll add: This is how someone turns out after doing this much practice.
It's one of my weak jokes. I mean to say, I'm pretty healthy but I'm not a total paragon of health and fitness. I'm a seventy six year old with a collection of old injuries and medical conditions, and some of the infirmities of ageing.
The good thing about staying with yoga all these years is that those injuries, conditions and ageing have taught me how to adapt. They've all been teachers, shaping my approach to yoga, and even my attitude towards life. Yoga is an amazing discipline for helping you get in touch with yourself if you are willing to learn.
read more
It's been out of print for 15 or more years but now it's back. It's available as a paperback as well as a range of digital formats for different devices. The design of this edition is modelled as closely as possible on the original release from 1997.
(Note: Book retailers set their own prices that are all different and constantly change.  It's worth shopping around for the best price.)
Any bookshop, whether online or bricks and mortar, can order copies of Teach Yourself Yoga.  Just ask and quote ISBN: 978-0-6487945-0-9.
Please send me feedback about the book.  I'd love to hear about any errors or problems with eBooks on various devices.  And please review the book wherever you get it.  Reviews will help more people discover the book.
Yoga Basics Pack. $24.95
10-week beginners Yoga course.
Specially designed for beginners, Yoga Basics is an easy to follow program for better health, flexibility and peace of mind. This pack contains 10 beautifully illustrated cards, one for each week of a ten-week course that tie a clear, practical and portable guide to getting started in yoga.
Yoga Tool Kit. $24.95
10 beautifully illustrated cards that give clear, practical and portable programs to meet a variety of needs. The customised sequences help provide holistic healthcare – better health, flexibility and peace of mind – so you can stay on top of your daily requirements with a safe and effective regime. Practices for boosting the immune system, insomnia, menstruation, post travel, low backache, stress and anxiety relief, fatigue, encouraging mental balance, managing menopause and regenerating.
I'm currently teaching two weekly classes on the Mid-North Coast of New South Wales where I live. I also lead workshops here and in other parts of Australia.
I've been regularly contributing to this blog since 2009.  There are now over 1250 posts about a very wide range of topics. Click here to explore.
Books, videos, teachers, websites, places to buy really hot yoga clothes (kidding), and generally anything I find that I think others might find useful.
I've been teaching since I was 35. I'm now 76. In that time there have been a few changes. Click here if you want to find out a bit about my life.
No, I'm not selling yoga mats or clothing. I don't even have a t-shirt... yet. But from time to time I find myself with something that someone may want. Have a look, I'm never sure what you'll find.
I put this Savasana on YouTube in 2012.
Since then it has been viewed (or listened to) over 365,000 times.