Between 14 May 2012 and 22 February 2013 I worked my way through the 196 Sutra of Patanjali. I called the project "A Sutra a Day". I tried to relate each of the Sutra to my life in a personal way. Here are the results.
Click here
Eve Grzybowski
Yoga Suits Her
I've been teaching yoga since 1980. A lot of my identity is tied up with being a yoga teacher. What does that mean? What should that mean? On this site I explore my personal journey and provide commentary on the state of yoga in the twenty-first century. I invite you to have a look and see what may be here for you.
Photo by: Julie Slavin Photography, Old Bar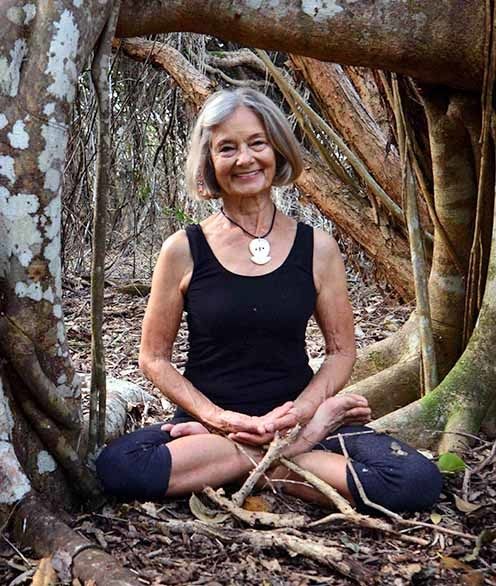 Featured videos from my YouTube channel
I've been adding meditations, short instructional video and an ever-growing selection of complete yoga classes. Click on any of these below videos to view them directly. Or click on the button below to explore the entire channel.
If you would like to make a donation to my continuing to create my videos and recordings, please click HERE.
All of my videos are also available on this website.

No to perfectionism
I've been thinking a lot about bones recently. I'm one of those people who is a bit obsessed with anatomy generally. Almost anything that relates to the physical body seems interesting to me, especially in the way that one's anatomy connects to mind and spirit.
Two years ago I had a fall on my left wrist which led to having several pictures taken: X-rays, CT and DEXA scans. That last one is known as a bone density test. What the images showed was that I had osteoporosis, i.e., loss of bone density, sometimes called thinning of the bones. Not good.
I was surprised, but not quite shocked, as I'd been through a couple bad-news diagnoses over the last decades. In 2006 I was diagnosed with atypical cells in my endometrium which forecast a 30% chance of progressing to cancer. I underwent a total hysterectomy and oophorectomy (removal of ovaries).
In an earlier shock (1992) I was diagnosed with hip osteoarthritis which eventually led to bilateral hip replacements (both hips).
It's not an exaggeration to say that I was devastated by both of these diagnoses. I felt like I'd devoted myself to good health for most of my life and then my body somehow betrayed me. I actually felt somewhat ashamed of having these serious conditions. What this says is that I was very disappointed that my body was no longer a complete paragon of radiant health. Not perfect.
Yes to acceptance
I discovered later that aiming to be a paragon of anything is a burden. I would have to learn many lessons, including the ultimate one: being kinder to myself.
Recently I heard American Op-ed columnist Frank Bruni in a podcast talking about going to bed one night with normal vision and then waking up the next morning blind in one eye. In the book that he wrote subsequently, 'The Beauty of Dusk', he says, 'We are all walking time bombs, we just detonate at different times.' Yoga teacher, Dr. Timothy McCall says, 'More often than not, good health is accidental.'
I'm not saying I've become inured to receiving unpleasant news but osteoporosis is treatable. This wake up call has had me include more weight bearing exercise and strength training in my exercise routine. I find that doing standing poses mindfully and with repetitions is so helpful, and simply walking is good for the legs and spine. Daily, I take Calcium and Vitamin D tablets, on my doctor's advice. And twice a year injections of a medication called Prolia.
A friend and colleague told me me that she has been diagnosed with osteoporosis and that she was stunned by that news.
Hearing this, I started thinking about a book I read in the nineties by Clarissa Pinkola Estes, 'Women Who Run With Wolves'. Bones feature prominently in Estes stories. There's La Loba, the wild woman and collector of bones in the desert. And Skeleton Woman, the Inuit of ice and snow.
Bones represent getting down to basics. We might talk about the bones of a story. Diving deeper we say, I knew it in my bones. When Estes features bones in her stories, they represent the stripping away of the outer self – of the persona, or social mask – in order to contact one's essence.
I've had to let go of my perfectionism and drop a little more of my ego identity as I age. I tell you it's a painful process, but only because of the fear of being without that old prop (ego).
This is a relentless process as you age. No one is likely to tell you this... that the pain is self-inflicted. The best pain transformer is acceptance. You've been hearing this all your life if you are a seeker. Believe it.
Acceptance opens you to the possibility of resilience and gratitude for the life you enjoy and all manner of things. Nature, singing, grandkids, a good night's sleep, a hot meal in the winter, yoga practice.
I've recorded a lovely visualisation, a kind of meditation on the bones of your body. It can be found on my YouTube channel. While you're there, have a browse. You'll find many goodies.
read more
Bones represent getting down to basics. We might talk about the bones of a story. Diving deeper we say, I knew it in my bones. When Estes features bones in her stories, they represent the stripping away of the outer self – of the persona, or social mask – in order to contact one's essence.
read more
Osteoporosis, as distinct from osteoarthritis, is a condition in which bones become weak and brittle. They can become so porous that they are sometimes described as honey-combed.
Normally the body constantly absorbs and replaces bone tissue, but with osteoporosis new bone creation doesn't keep up with old bone removal.
Risk factors that contribute to the condition are smoking, excessive alcohol consumption, unhealthy diet, familial tendency, low vitamin D levels, inadequate intake of calcium, low body weight, physical inactivity and a history of falls.
The danger with is that many people have no symptoms until they have a bone fracture.
read more
It's been out of print for 15 or more years but now it's back. It's available as a paperback as well as a range of digital formats for different devices. The design of this edition is modelled as closely as possible on the original release from 1997.
(Note: Book retailers set their own prices that are all different and constantly change.  It's worth shopping around for the best price.)
Any bookshop, whether online or bricks and mortar, can order copies of Teach Yourself Yoga.  Just ask and quote ISBN: 978-0-6487945-0-9.
Please send me feedback about the book.  I'd love to hear about any errors or problems with eBooks on various devices.  And please review the book wherever you get it.  Reviews will help more people discover the book.
Yoga Basics Pack. $24.95
10-week beginners Yoga course.
Specially designed for beginners, Yoga Basics is an easy to follow program for better health, flexibility and peace of mind. This pack contains 10 beautifully illustrated cards, one for each week of a ten-week course that tie a clear, practical and portable guide to getting started in yoga.
Yoga Tool Kit. $24.95
10 beautifully illustrated cards that give clear, practical and portable programs to meet a variety of needs. The customised sequences help provide holistic healthcare – better health, flexibility and peace of mind – so you can stay on top of your daily requirements with a safe and effective regime. Practices for boosting the immune system, insomnia, menstruation, post travel, low backache, stress and anxiety relief, fatigue, encouraging mental balance, managing menopause and regenerating.
I'm currently teaching two weekly classes on the Mid-North Coast of New South Wales where I live. I also lead workshops here and in other parts of Australia.
I've been regularly contributing to this blog since 2009. There are now over 1250 posts about a very wide range of topics. Click here to explore.
Books, videos, teachers, websites, places to buy really hot yoga clothes (kidding), and generally anything I find that I think others might find useful.
I've been teaching since I was 35. I'm now 76. In that time there have been a few changes. Click here if you want to find out a bit about my life.
No, I'm not selling yoga mats or clothing. I don't even have a t-shirt... yet. But from time to time I find myself with something that someone may want. Have a look, I'm never sure what you'll find.