Between 14 May 2012 and 22 February 2013 I worked my way through the 196 Sutra of Patanjali. I called the project "A Sutra a Day". I tried to relate each of the Sutra to my life in a personal way. Here are the results.
Click here
Eve Grzybowski
Yoga Suits Her
I've been teaching yoga since 1980. A lot of my identity is tied up with being a yoga teacher. What does that mean? What should that mean? On this site I explore my personal journey and provide commentary on the state of yoga in the twenty-first century. I invite you to have a look and see what may be here for you.
Photo by: Julie Slavin Photography, Old Bar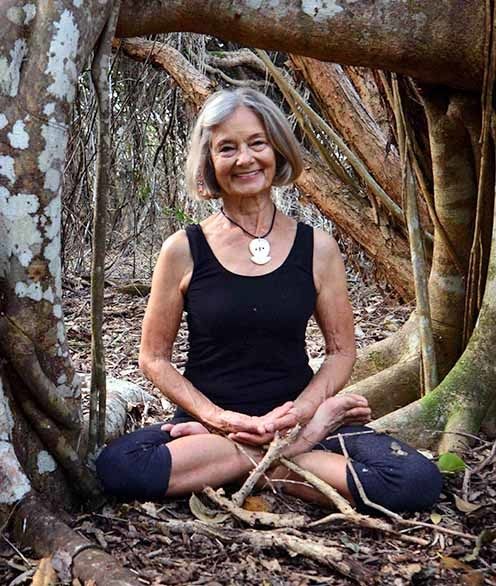 Please Gladys, can I have a haircut?
I've been toying with the idea of going back to my bald headed identity which I adopted for a short time at the end of 2004. On the occasion of my 60th birthday, I had my head shaved by my hairdresser as part of the party celebrations. And I encouraged my friends and family to sponsor me in raising funds for 'Doctors Without Borders'. That was around the time of the Boxing Day Tsunami. My friend Rick and I were able to raise $5,000 for the organisation.
What has caused me to think of undergoing drastic hair measures at this time?
Because in New South Wales we need to shelter in place, Even though we can go out for our basic necessities, hair cuts and treatments are not considered essential services.
How long will we be lockdown? How long will my locks get? Who knows? But I'm guessing another month or two. How long depends on how many of us are vaccinated and how quickly we take up that challenge. Please do get the jab for yourself and for all of our sakes!
I feel so so sorry for my lovely redhead hairdresser, Mel. Her popular New Bar Salon is closed indefinitely, and she still has rent to pay and her family of three kids to support. I know it's not all about me, but in the meantime, my hair is losing the beautiful lines she created.
Perhaps the lack of salons is a first world problem, but we're all getting it on all sides. Our kids are now two years into this thing and experiencing being cut off from many of the delights of childhood and adolescence--growing up together. Aged individuals, many of whom live at home or in nursing homes, are isolated from their families and friends at a time of life that is inherently lonely.
Learning from the lockdown
Fortunately, the erosion of little freedoms is not impacting our Shedders' household of six too much. Judy and Heather got out their hairdressing scissors and set up a temporary salon on the deck. IMO, Judy gave Heather as good a haircut as Heather receives at the hands of her professional hairdresser. And like any great salon experience, there was plenty of gossip sharing and laughter.
Against the background of global heating, wildfires, floods, COVID-19, war, and oppression, Australia is truly in a relatively safe bubble. I'm not used to hardship, so the disappearance of things I've taken for granted is a wakeup call. It's made me more acutely aware of the need to take care of those in our communities who are not faring so well.
I try to be in touch by phone each day with at least one person who might be feeling alone. It's such a simple thing to do: just pick up my phone and call. If someone is hard to get a hold of, it means I just have to work a bit harder to get them.
I've also begun running live video yoga classes twice a week. This has had me jump over a huge amount of resistance to technology. And, I've discovered that this, too, is not that difficult. What's difficult is resistance itself.
So, I'm thinking, maybe a number two on Daniel's electric clippers? What about you, dear readers, how are you faring?
read more
Against the background of global heating, wildfires, floods, COVID-19, war, and oppression, Australia is truly in a relatively safe bubble. I'm not used to hardship, so the disappearance of things I've taken for granted is a wakeup call. It's made me more acutely aware of the need to take care of those in our communities who are not faring so well.
read more
I'm forever grateful that my dear girlfriend, Mary Lou, came up with the idea of us doing yoga. She thought we could lose some weight and learn to relax by participating in a 10-week course at the local YMCA.
I was a no-nothing regarding yoga, but I trusted my friend. If I had been able to google the word 'yoga' in 1971, I would have found references to the Beatles and Mahreesh Mahesh Yogi, Ram Dass and psychedelic drugs, and television shows with women in Lycra leotards and stiffly sprayed hair. 
Mary Lou and I arrived at the YMCA class and took up our cross-leg seated positions on gym mats. I sneaked a peek at the fifteen or so other students–not a man in sight. That part of yoga has not changed much.
Leading the class was a slim, lively yet calm woman in her mid-sixties. Dorothy Tomarelli told us by way of introduction that her husband had died a few years previously. As a result of her grief, Dorothy went into a rapid emotional and physical decline. Her muscles atrophied and she lost strength. Her doctor, seeing her depressed state, advised her to take up yoga. Dorothy decided that she had nothing to lose and searched for a class. It turned out to be so much of a lifesaver that she decided to teach yoga. 
This is often the way a seed is planted for future yoga teachers. We are inspired by someone. As I listened to Dorothy, something stirred in me. I saw a glimmer of hope in Dorothy's story–the possibility that health, happiness and even longevity could be mine.
read more
It's been out of print for 15 or more years but now it's back. It's available as a paperback as well as a range of digital formats for different devices. The design of this edition is modelled as closely as possible on the original release from 1997.
(Note: Book retailers set their own prices that are all different and constantly change.  It's worth shopping around for the best price.)
Any bookshop, whether online or bricks and mortar, can order copies of Teach Yourself Yoga.  Just ask and quote ISBN: 978-0-6487945-0-9.
Please send me feedback about the book.  I'd love to hear about any errors or problems with eBooks on various devices.  And please review the book wherever you get it.  Reviews will help more people discover the book.
Yoga Basics Pack. $24.95
10-week beginners Yoga course.
Specially designed for beginners, Yoga Basics is an easy to follow program for better health, flexibility and peace of mind. This pack contains 10 beautifully illustrated cards, one for each week of a ten-week course that tie a clear, practical and portable guide to getting started in yoga.
Yoga Tool Kit. $24.95
10 beautifully illustrated cards that give clear, practical and portable programs to meet a variety of needs. The customised sequences help provide holistic healthcare – better health, flexibility and peace of mind – so you can stay on top of your daily requirements with a safe and effective regime. Practices for boosting the immune system, insomnia, menstruation, post travel, low backache, stress and anxiety relief, fatigue, encouraging mental balance, managing menopause and regenerating.
I'm currently teaching two weekly classes on the Mid-North Coast of New South Wales where I live. I also lead workshops here and in other parts of Australia.
I've been regularly contributing to this blog since 2009.  There are now over 1250 posts about a very wide range of topics. Click here to explore.
Books, videos, teachers, websites, places to buy really hot yoga clothes (kidding), and generally anything I find that I think others might find useful.
I've been teaching since I was 35. I'm now 76. In that time there have been a few changes. Click here if you want to find out a bit about my life.
No, I'm not selling yoga mats or clothing. I don't even have a t-shirt... yet. But from time to time I find myself with something that someone may want. Have a look, I'm never sure what you'll find.
I put this Savasana on YouTube in 2012.
Since then it has been viewed (or listened to) over 365,000 times.