Between 14 May 2012 and 22 February 2013 I worked my way through the 196 Sutra of Patanjali. I called the project "A Sutra a Day". I tried to relate each of the Sutra to my life in a personal way. Here are the results.
Click here
Eve Grzybowski
Yoga Suits Her
I've been teaching yoga since 1980. A lot of my identity is tied up with being a yoga teacher. What does that mean? What should that mean? On this site I explore my personal journey and provide commentary on the state of yoga in the twenty-first century. I invite you to have a look and see what may be here for you.
Photo by: Julie Slavin Photography, Old Bar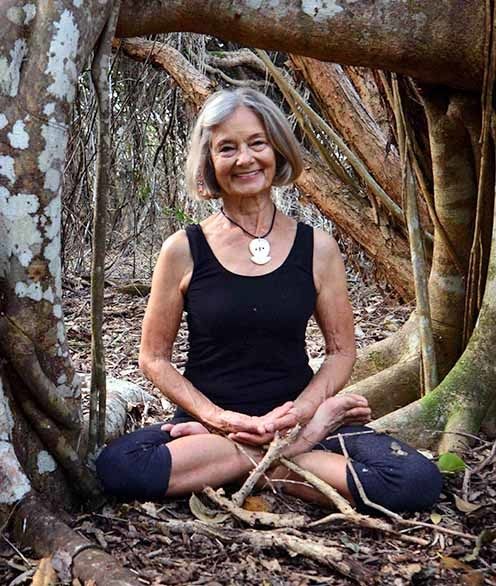 Featured videos from my YouTube channel
I've been adding meditations, short instructional video and an ever-growing selection of complete yoga classes. Click on any of these below videos to view them directly. Or click on the button below to explore the entire channel.
If you would like to make a donation to my continuing to create my videos and recordings, please click HERE.
All of my videos are also available on this website.

A yoga studio is a sanctuary
In these 'corona times' we're living through, I'm newly appreciative that I have a dedicated space for doing yoga practice. It's made me think about what the special allure of a yoga studio is.
Students have been coming to the Yoga Shed on Mitchells Island since 2010. I don't know how many have passed through the door. Many students have stayed. Some have gone on to be yoga teachers.
This is my 5th yoga studio. There were three different Sydney Yoga Centre spaces: Haymarket, Riley Street and Crown Street. After these, I founded Simple Yoga in Crows Nest. Now we have the Yoga Shed. Each studio has been imbued with its own life, energy and charm.
The corner of Ultimo and Thomas Streets, Haymarket, was also the premises for an acting school. Most nighttime yoga relaxations would be underscored by the actors playing music downstairs. They might play 'Black Sabbath', for instance, so loudly that the floor boards vibrated.
Riley Street was quieter and quaint. The building featured dormer windows decorated with wooden gargoyles. The ceiling in the yoga room was low. A tall person could do a handstand at the wall and their feet might touch the ceiling.
We came into our own at Crown Street. A former printing business, we did a major renovation that blended the buildings heritage features with modern comforts. High ceilings, ample space and natural light made for a soothing and welcoming space. Sydney Yoga Centre became a community hub for the 'creatives' of Surry Hills. We ran five yoga teacher trainings there.
Simply Yoga, like the other studios, had an inner city vibe. And similarly to the other spaces, once you entered the yoga room, you felt safe. You could leave the busy-ness of the outer world behind to spend time with yourself in peace.
The magic of the Yoga Shed
The Yoga Shed sits in a semi-rural setting with distant views of the river. I think that the yoga class begins as students walk through the gardens. To see the colour and variety of growing things is a meditation in itself, a joyful one.
The entrance to the yoga studio is framed by two mature bougainvilleas--one pink, one saffron. A water feature is almost out of sight but can be heard bubbling along. It will be a background sound in the yoga relaxation.
The room is an open space in what is really just an old green shed. It's been tarted up with carpeting and is overflowing with props. The obvious ones are bolsters, blankets, blocks, straps, mats. There are less common props, too. There's a yoga swing, a wooden trestle and a big whale-shaped backbender.
A month or so ago, a dozen students would fill the space for the Tuesday morning class. There was magic in being able to look around the room and see neighbours' and friends' faces. We would finish the sessions with the traditional 'namaste' and feel each other's goodwill. Every time we would meet, we built on that goodwill to form deeper bonds. We would water the garden of community.
At this time, I love the generosity of yoga teachers in offering our classes online for free.
But let me just say that this parenthesis in time is definitely temporary. There's nothing like an in-person community. And my heartfelt wish is that we get back together as soon as possible.
In the meantime, your mat is your yoga studio. You can create your own sanctuary every time you roll it out and get on it. When you finally do come to classes again, your relationship with yoga will be deeper and more personal because of your constancy.
read more
A yoga studio is a sanctuary In these 'corona times' we're living through, I'm newly appreciative that I have a dedicated space for doing yoga practice. It's made me think about what the special allure of a yoga studio is. Students have been coming to the Yoga Shed on...
read more
Feeling somewhat 'death illiterate', I did a year-long training in 2014 called Midwifing Death. I had an idea that this course would be good to do, a way of looking to my future. It would help me be more able to face, in a full-frontal way, my own ageing process, which will lead eventually to my own dying.
read more
It's been out of print for 15 or more years but now it's back. It's available as a paperback as well as a range of digital formats for different devices. The design of this edition is modelled as closely as possible on the original release from 1997.
(Note: Book retailers set their own prices that are all different and constantly change.  It's worth shopping around for the best price.)
Any bookshop, whether online or bricks and mortar, can order copies of Teach Yourself Yoga.  Just ask and quote ISBN: 978-0-6487945-0-9.
Please send me feedback about the book.  I'd love to hear about any errors or problems with eBooks on various devices.  And please review the book wherever you get it.  Reviews will help more people discover the book.
Yoga Basics Pack. $24.95
10-week beginners Yoga course.
Specially designed for beginners, Yoga Basics is an easy to follow program for better health, flexibility and peace of mind. This pack contains 10 beautifully illustrated cards, one for each week of a ten-week course that tie a clear, practical and portable guide to getting started in yoga.
Yoga Tool Kit. $24.95
10 beautifully illustrated cards that give clear, practical and portable programs to meet a variety of needs. The customised sequences help provide holistic healthcare – better health, flexibility and peace of mind – so you can stay on top of your daily requirements with a safe and effective regime. Practices for boosting the immune system, insomnia, menstruation, post travel, low backache, stress and anxiety relief, fatigue, encouraging mental balance, managing menopause and regenerating.
I'm currently teaching two weekly classes on the Mid-North Coast of New South Wales where I live. I also lead workshops here and in other parts of Australia.
I've been regularly contributing to this blog since 2009. There are now over 1250 posts about a very wide range of topics. Click here to explore.
Books, videos, teachers, websites, places to buy really hot yoga clothes (kidding), and generally anything I find that I think others might find useful.
I've been teaching since I was 35. I'm now 76. In that time there have been a few changes. Click here if you want to find out a bit about my life.
No, I'm not selling yoga mats or clothing. I don't even have a t-shirt... yet. But from time to time I find myself with something that someone may want. Have a look, I'm never sure what you'll find.