Between 14 May 2012 and 22 February 2013 I worked my way through the 196 Sutra of Patanjali. I called the project "A Sutra a Day". I tried to relate each of the Sutra to my life in a personal way. Here are the results.
Click here
Eve Grzybowski
Yoga Suits Her
I've been teaching yoga since 1980. A lot of my identity is tied up with being a yoga teacher. What does that mean? What should that mean? On this site I explore my personal journey and provide commentary on the state of yoga in the twenty-first century. I invite you to have a look and see what may be here for you.
Photo by: Julie Slavin Photography, Old Bar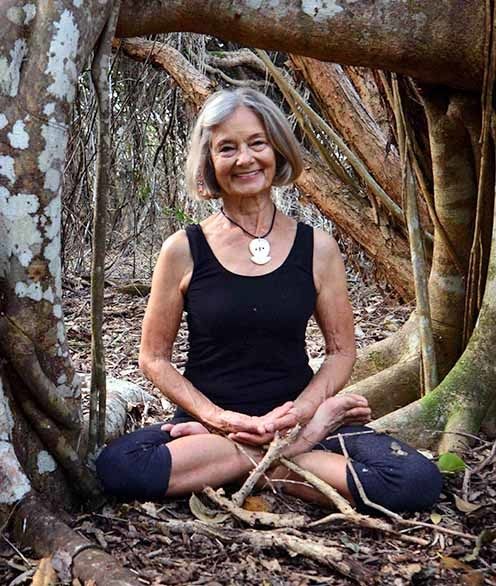 Featured videos from my YouTube channel
I've been adding meditations, short instructional video and an ever-growing selection of complete yoga classes. Click on any of these below videos to view them directly. Or click on the button below to explore the entire channel.
If you would like to make a donation to my continuing to create my videos and recordings, please click HERE.
All of my videos are also available on this website.

Forty years ago this year
Time doesn't always fly. Sometimes it does. Sometimes it plods. I know it's forty years of teaching yoga because I can add up the students I've taught along the way. It's a lot!
I did my first yoga teacher training in 1980. (I felt obliged to do another one 20 years later to fill in the gaps.)
Afterwards, a teaching 'opportunity' opened up in the school where I had studied: The Australian School of Yoga in Bondi Junction.
Not really much of an opportunity––teaching in the 8 am. slot, between the 6am and 10 am classes. But, hey, I was enthusiastic and I was happy my two students kept coming back. By the time I ran out of enthusiasm, I'd built the class up to 4 students. I was ready to move on.
Then my teacher, Martyn Jackson, offered me some real opportunities. I travelled with him to the Ramamani Iyengar Yoga Institute in Pune, India, at the end of 1980. There I met the renowned B.K.S. Iyengar, Martyn's teacher. While I didn't get to attend any classes at the Institute, I was able to enjoy the beautiful hills district of Pune and soak up the exotic atmosphere.
Another opportunity presented as Martyn invited me to travel with him to the U.S. as his teaching assistant. We visited six cities in as many weeks and I got to meet the prominent Iyengar yoga teachers of that time. Some of them are still teaching: Felicity Green, Lolly Font, Elise Browning Miller, Jean Couch and more.
Martyn and I made a good teaching combination and we were invited back to the States the following year. We spent three months in Beverly Hills, Los Angeles, teaching an intensive to students at Gangha White's school.
It was all glamour and glitz hanging out with the California yogis. But I was keen to get back to Australia to start teaching under my own banner. In retrospect, this was an audacious aim, but I had put in 3 years of apprenticeship with Martyn. This is a lengthy commitment that is rarely elicited in today's factory-style yoga teacher trainings.
With help from my partner of this time, Tony Miles, I set up my own studio in McMahon's Point.
I think I must have a guardian angel looking after me. At every juncture along my zigzagging life path, I seem to have followed a light in a propitious direction. A friend suggested I take over the lease of the East West Centre––city premises next to Paddy's Market in Sydney. That decision whereby we created Sydney Yoga Centre felt like jumping off a cliff. But it was just a stepping stone to a long and, dare I say, successful period of teaching in Sydney. I taught in the classroom, in teacher trainings, workshops, retreats, and wrote a book and a manual.
When left Sydney Yoga Centre in 1999, I couldn't help myself. I opened Simply Yoga in Crows Nest.
And now....
Living on a semi-rural property with it's own Yoga Shed, I've feel extremely fortunate as I can continue to teach in the Manning Valley. There's not a doubt in my mind that forty years of teaching yoga is not quite enough. I will continue until I can't. But with the continuing glow of yoga good health, that may be a long time into the future.
read more
Time doesn't quite fly always. Sometimes it does. Sometimes it plods. I know it's forty years of teaching yoga because I can add up the students I've taught along the way. It's a lot!
read more
Years ago I had osteoarthritis of both hips. I had hip replacement surgery in 2010 and have gone from strength to strength since then.
However the period when I was first diagnosed was hell for me. My ego felt crushed like a stepped-on grape. I was convinced that the orthopaedic surgeon's diagnosis spelled career suicide for me as a yoga teacher. The idea of my sporting artificial hips filled me with dread and resistance.
I certainly didn't want any yoga students to know I was less than perfect. I only wanted to present a healthy, ever-youthful image. […]
read more
It's been out of print for 15 or more years but now it's back. It's available as a paperback as well as a range of digital formats for different devices. The design of this edition is modelled as closely as possible on the original release from 1997.
(Note: Book retailers set their own prices that are all different and constantly change.  It's worth shopping around for the best price.)
Any bookshop, whether online or bricks and mortar, can order copies of Teach Yourself Yoga.  Just ask and quote ISBN: 978-0-6487945-0-9.
Please send me feedback about the book.  I'd love to hear about any errors or problems with eBooks on various devices.  And please review the book wherever you get it.  Reviews will help more people discover the book.
Yoga Basics Pack. $24.95
10-week beginners Yoga course.
Specially designed for beginners, Yoga Basics is an easy to follow program for better health, flexibility and peace of mind. This pack contains 10 beautifully illustrated cards, one for each week of a ten-week course that tie a clear, practical and portable guide to getting started in yoga.
Yoga Tool Kit. $24.95
10 beautifully illustrated cards that give clear, practical and portable programs to meet a variety of needs. The customised sequences help provide holistic healthcare – better health, flexibility and peace of mind – so you can stay on top of your daily requirements with a safe and effective regime. Practices for boosting the immune system, insomnia, menstruation, post travel, low backache, stress and anxiety relief, fatigue, encouraging mental balance, managing menopause and regenerating.
I'm currently teaching two weekly classes on the Mid-North Coast of New South Wales where I live. I also lead workshops here and in other parts of Australia.
I've been regularly contributing to this blog since 2009. There are now over 1250 posts about a very wide range of topics. Click here to explore.
Books, videos, teachers, websites, places to buy really hot yoga clothes (kidding), and generally anything I find that I think others might find useful.
I've been teaching since I was 35. I'm now 76. In that time there have been a few changes. Click here if you want to find out a bit about my life.
No, I'm not selling yoga mats or clothing. I don't even have a t-shirt... yet. But from time to time I find myself with something that someone may want. Have a look, I'm never sure what you'll find.