I've been teaching yoga since 1980. A lot of my identity is tied up with being a yoga teacher. What does that mean? What should that mean? On this site I explore my personal journey and provide commentary on the state of yoga in the twenty-first century. I invite you to have a look and see what may be here for you.
Photo by: Julie Slavin Photography, Old Bar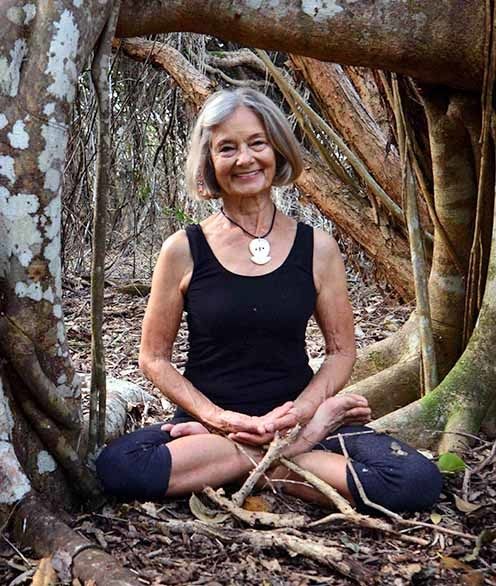 Featured videos from my YouTube channel
I've been adding meditations, short instructional video and an ever-growing selection of complete yoga classes.  Click on any of these below videos to view them directly.  Or click on the button below to explore the entire channel.
Restorative. Part 2: Self Care
Flank Pose: Hamstring Flexion & Hip Extension
Utthita Hasta Padangusthasana HD 720p
The Basics: Focus on Ardha Chandrasana
Yoga for Strong Quadriceps II HD 720p
User Friendly Forward Folds
Access all videos by clicking on any of these buttons.
I've met the most fascinating humans through my chosen profession. But none of them more so than Billy O'Riordan who passed away this week.
Any newspaper articles about Billy, including now his death notice, will undoubtedly feature 'aka Joylene Thornbird Hairmouth'. Billy was a notorious member of the cabaret/punk band Jimmy and the Boys, fronted by bad boy Ignatius Jones in the 70's-80's.
It wasn't until the 90's, though, that I met Billy, when he climbed the wide wooden stairs of my school, Sydney Yoga Centre, and joined our yoga classes. At this time of his life, he was attempting to stay sober and make healthy living choices.
Billy was a born performer and his favoured expression that of drag queen. I'd heard about his amazing dress and makeup presentation and finally got to see him in full regalia at my 50th birthday party. My invitation suggested a dress code where anyone might cross-dress if they liked.
He stole the show. Dressed in his mother Gwen's slim-lined, red, very sequined frock and mile-high hair, Billy arrived at the party ready to boogie. When Daniel and I cleaned up the morning after, we found red sequins that had popped off Gwen's dress under and over and all around the place.
Billy was generous and spent time on piano rehearsing with Daniel and me the Stephen Sondheim song 'The Little Things You Do Together' which we then sang, and he played, at Collyn and Maarit's wedding.
Someone described Billy's intelligence as a diamond wit. True. He just loved words and learned the Sanskrit names to yoga poses just for fun.
I hadn't been in touch with Billy for a long time so I didn't know he was approaching end of life. When I phoned and reached him directly at his hospice bed, I was glad I could say some of the happy memories I had of him. He cried. He was tired and this life was hard. I think he knew, too, that he wasn't going to go home.
A giant and audacious talent has been extinguished, and Bill will be sorely missed. Likely we won't be dwelling on his death but on the fact that he lived and gave us memories too vivid to forget.
read more
I've met the most fascinating humans through my chosen profession. But none of them more so than Billy O'Riordan who passed away this week. 
read more
It's been out of print for 15 or more years but now it's back. It's available as a paperback as well as a range of digital formats for different devices. The design of this edition is modelled as closely as possible on the original release from 1997.
(Note: Book retailers set their own prices that are all different and constantly change.  It's worth shopping around for the best price.)
Any bookshop, whether online or bricks and mortar, can order copies of Teach Yourself Yoga.  Just ask and quote ISBN: 978-0-6487945-0-9.
Please send me feedback about the book.  I'd love to hear about any errors or problems with eBooks on various devices.  And please review the book wherever you get it.  Reviews will help more people discover the book.
I'm currently teaching two weekly classes on the Mid-North Coast of New South Wales where I live. I also lead workshops here and in other parts of Australia.
I've been regularly contributing to this blog since 2009. There are now over 1250 posts about a very wide range of topics. Click here to explore.
Books, videos, teachers, websites, places to buy really hot yoga clothes (kidding), and generally anything I find that I think others might find useful.
I've been teaching since I was 35. I'm now 76. In that time there have been a few changes. Click here if you want to find out a bit about my life.
No, I'm not selling yoga mats or clothing. I don't even have a t-shirt... yet. But from time to time I find myself with something that someone may want. Have a look, I'm never sure what you'll find.