Between 14 May 2012 and 22 February 2013 I worked my way through the 196 Sutra of Patanjali. I called the project "A Sutra a Day". I tried to relate each of the Sutra to my life in a personal way. Here are the results.
Click here
Eve Grzybowski
Yoga Suits Her
I've been teaching yoga since 1980. A lot of my identity is tied up with being a yoga teacher. What does that mean? What should that mean? On this site I explore my personal journey and provide commentary on the state of yoga in the twenty-first century. I invite you to have a look and see what may be here for you.
Photo by: Julie Slavin Photography, Old Bar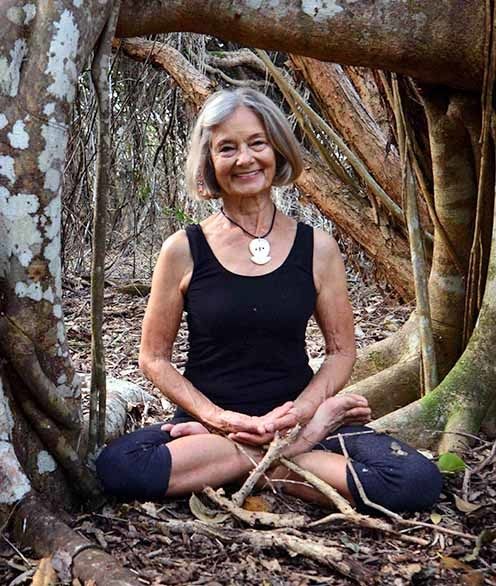 It's Upon Us
Bad news abounds. I have a NASA Earth Now App which flashes me the latest global events.
Today and for many days, 'Wildfire Smoke Streams Across the U.S.' is the main headline. The west coast, northwestern and southwestern states are burning. To date, nearly 7 million acres are gone. At the same time, Hurricane Teddy is heading towards Maine and the eastern seaboard, while Hurricane Sally is lashing the Gulf Coast.
A part of me doesn't want to know about these events, about the inexorable rise in the planet's temperatures and sea levels. But I'm not alone. Individuals, communities and nations may be hoping for the best but not stepping up to meet the challenges. There are too many.
What do we do, for instance, as Antarctica, our southerly neighbour, heats up. The western peninsula, in particular, is considered a hot spot. Since the 50's, it has warmed by more than 10 degrees Fahrenheit. This has had devastating effects on wildlife, the iconic Adelie penguins, for instance. National Geographic Magazine describes a strange, changed landscape that has become inhospitable to the penguins:
The western peninsula, often depicted on maps in white, is now so warm that tufts of the continent's only native flowering plants, hair grass and yellow-flowered pearlwort, are spreading. So are invasive grasses and lichens. Green moss is growing three times as fast as it did in the past. Island peaks once cloaked in snow are now wet and melting, exposing mud or yawning crevasses.
Yet environmental concerns have taken a back seat to the coronavirus, this plague that has been stalking the planet all of this year. It has killed 961,373 worldwide, with the U.S. accounting for nearly 200,000 of these deaths. It's heartbreaking that the world's most vulnerable account for the majority of these deaths: aged populations, people of colour, the poverty stricken, those imprisoned and in refugee camps. 
Not exactly dancing
In the meantime, here on Mitchells Island, we look out on a green, unthreatened landscape. Every day in our little bubble of semi-retired bliss, I admire
Those of us of a certain age...seventies, eighties and so on...are frequenters of medical services.
I've learned that, no matter how hard we try to stay healthy, odds are we will eventually be brought low. I know this personally and intimately from my nineteen year journey, suffering from osteoarthritis, from age 47.
Now, I hear this bad news after submitting to a bone density test: I have osteoporosis. This disease can be described as the gradually thinning of bones. For some people, their bones become honeycomb-like, and this is life-threatening.
Fortunately, I am far off the severity of the advanced condition. My doctor has recommended a medication that
read more
It's Upon Us Bad news abounds. I have a NASA Earth Now App which flashes me the latest global events. Today and for many days, 'Wildfire Smoke Streams Across the U.S.' is the main headline. The west coast, northwestern and southwestern states are burning. To date,...
read more
Here in Australia, impossible to ignore, there has been the continuing cruelty of a nationwide drought. And the resultant drying up of rivers and loss of biodiversity.
Then along came the winter bushfires. Winter! Not the 'normal' season for fires to occur. Even less 'normal' for the rain forests to burn.
And now, there are massive rainfalls, flooding, storms and perilous tidal surges.
read more
It's been out of print for 15 or more years but now it's back. It's available as a paperback as well as a range of digital formats for different devices. The design of this edition is modelled as closely as possible on the original release from 1997.
(Note: Book retailers set their own prices that are all different and constantly change.  It's worth shopping around for the best price.)
Any bookshop, whether online or bricks and mortar, can order copies of Teach Yourself Yoga.  Just ask and quote ISBN: 978-0-6487945-0-9.
Please send me feedback about the book.  I'd love to hear about any errors or problems with eBooks on various devices.  And please review the book wherever you get it.  Reviews will help more people discover the book.
Yoga Basics Pack. $24.95
10-week beginners Yoga course.
Specially designed for beginners, Yoga Basics is an easy to follow program for better health, flexibility and peace of mind. This pack contains 10 beautifully illustrated cards, one for each week of a ten-week course that tie a clear, practical and portable guide to getting started in yoga.
Yoga Tool Kit. $24.95
10 beautifully illustrated cards that give clear, practical and portable programs to meet a variety of needs. The customised sequences help provide holistic healthcare – better health, flexibility and peace of mind – so you can stay on top of your daily requirements with a safe and effective regime. Practices for boosting the immune system, insomnia, menstruation, post travel, low backache, stress and anxiety relief, fatigue, encouraging mental balance, managing menopause and regenerating.
I'm currently teaching two weekly classes on the Mid-North Coast of New South Wales where I live. I also lead workshops here and in other parts of Australia.
I've been regularly contributing to this blog since 2009.  There are now over 1250 posts about a very wide range of topics. Click here to explore.
Books, videos, teachers, websites, places to buy really hot yoga clothes (kidding), and generally anything I find that I think others might find useful.
I've been teaching since I was 35. I'm now 76. In that time there have been a few changes. Click here if you want to find out a bit about my life.
No, I'm not selling yoga mats or clothing. I don't even have a t-shirt... yet. But from time to time I find myself with something that someone may want. Have a look, I'm never sure what you'll find.
I put this Savasana on YouTube in 2012.
Since then it has been viewed (or listened to) over 365,000 times.