Between 14 May 2012 and 22 February 2013 I worked my way through the 196 Sutra of Patanjali. I called the project "A Sutra a Day". I tried to relate each of the Sutra to my life in a personal way. Here are the results.
Click here
Eve Grzybowski
Yoga Suits Her
I've been teaching yoga since 1980. A lot of my identity is tied up with being a yoga teacher. What does that mean? What should that mean? On this site I explore my personal journey and provide commentary on the state of yoga in the twenty-first century. I invite you to have a look and see what may be here for you.
Photo by: Julie Slavin Photography, Old Bar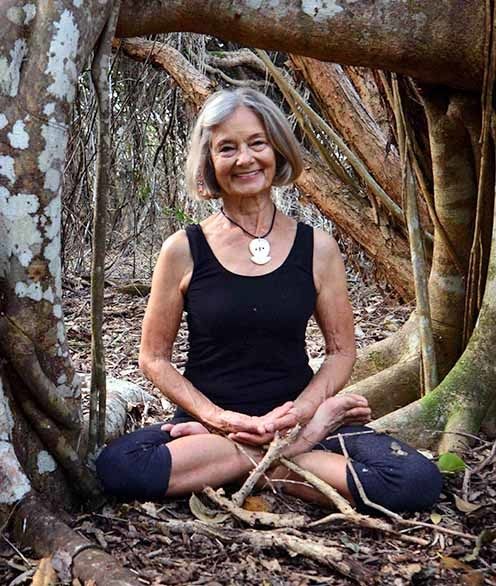 My housemate and friend, Michael Hollingworth, has a tried-and-true way to help you when you're feeing down. I asked Michael to share the practices of 'gifting' with you here. You might want to store these practises in your meditation 'tool box' to bring out as needed.
Michael is a mindfulness meditation teacher, former yoga teacher and long time practitioner. He and I collaborate each January to put on an 'Intensive' week of mindfulness and yoga.
Here's Michael:
How to make your dog happy
Do you have days on the mat when every Down Dog really feels like a downer? When you'd probably fall out of head stand if you even felt like doing one? When the others in the yoga class are just intrusions on your space, who defeat any attempt you might make at empathy, let alone generosity or compassion?
Here's a small formula for when your ebb is getting low: give yourself away. Well, if not yourself, give away a bit of whatever you've got.
An inspiring model for this is presented by Prof Barbra Fredrickson, a leading researcher in positive psychology, in her book called – yes – Positivity.This is what she suggests:
The Five Gift Day Challenge
Set yourself the challenge of giving five gifts, or performing five new acts of kindness, on a single day. Aim for actions that really make a difference and come at some cost to you, such as donating blood, helping your neighbour, or finding a better way to help an ailing person manage their pain or difficulties. Gifts might also include money, time, energy, or goods or resources. Be creative and thoughtful. However, don't make the tasks so hard that you pull back: it is better to make small gifts than not to give at all.
Although some gifts or kind acts may need planning, make a point of carrying them all out on a single day.  At the end of your day take stock. Notice the feelings that you experience… Consider making the Five Gift Day a recurring ritual, perhaps once a month or once a fortnight.
29 Gifts
But wait, as they say. There's more…
Long before I met Prof Fredrickson (on one of her visits to a happiness conference in Sydney), I encountered another giveaway phenomenon: the website 29 Gifts . This works on one simple principle: Give one thing away each day for 29 days.  The 29 Gifts project and community were started by a 33-year-old woman who one month after marrying was diagnosed with multiple sclerosis. This was how she responded. And this is what she recommends to her followers:
Give one thing away, each day, for 29 days. Why? Because to see your world change, you have to DO something to change your world. Change the world by changing your own.
Miraculous happenings are reported to occur in the course of the 29 days. As Andy Warhol is reported to have said: They always say time changes things, but actually you have to change them yourself.
So if your dog is down, take your pick. Fill one day with giving away five gifts if you're feeling down. Or take on the full catastrophe, as Zorba might have said: put in 29 days giving one gift every day.
Your dog will certainly pick up its act, perhaps stand up on hind legs. Or maybe even stand on its head…
read more
My housemate and friend, Michael Hollingworth, has a tried-and-true way to help when you're feeing down. The practices described here are so valuable that I've asked Michael to share them with you. I recommend 'gifting' as a beautiful generosity practice that you might want to store in your meditation 'tool box' to bring out as needed.
read more
I got myself into a scrape last weekend – literally. I want to tell the story because it reminded me of the power of my mind and how easy it is to create negative fantasies. It's something we all do rather than face unpleasant feelings that lie beneath the surface.
I had just finished leading my 'Restorative Yoga' workshop in Port Stephens. I packed up the Prop-mobile with bolsters, belts, blocks and blankets, all ready for the 2.5 hours drive home.
Backing out of the driveway, I neglected to look behind and drove smack into a concrete gate. […]
read more
It's been out of print for 15 or more years but now it's back. It's available as a paperback as well as a range of digital formats for different devices. The design of this edition is modelled as closely as possible on the original release from 1997.
(Note: Book retailers set their own prices that are all different and constantly change.  It's worth shopping around for the best price.)
Any bookshop, whether online or bricks and mortar, can order copies of Teach Yourself Yoga.  Just ask and quote ISBN: 978-0-6487945-0-9.
Please send me feedback about the book.  I'd love to hear about any errors or problems with eBooks on various devices.  And please review the book wherever you get it.  Reviews will help more people discover the book.
Yoga Basics Pack. $24.95
10-week beginners Yoga course.
Specially designed for beginners, Yoga Basics is an easy to follow program for better health, flexibility and peace of mind. This pack contains 10 beautifully illustrated cards, one for each week of a ten-week course that tie a clear, practical and portable guide to getting started in yoga.
Yoga Tool Kit. $24.95
10 beautifully illustrated cards that give clear, practical and portable programs to meet a variety of needs. The customised sequences help provide holistic healthcare – better health, flexibility and peace of mind – so you can stay on top of your daily requirements with a safe and effective regime. Practices for boosting the immune system, insomnia, menstruation, post travel, low backache, stress and anxiety relief, fatigue, encouraging mental balance, managing menopause and regenerating.
I'm currently teaching two weekly classes on the Mid-North Coast of New South Wales where I live. I also lead workshops here and in other parts of Australia.
I've been regularly contributing to this blog since 2009.  There are now over 1250 posts about a very wide range of topics. Click here to explore.
Books, videos, teachers, websites, places to buy really hot yoga clothes (kidding), and generally anything I find that I think others might find useful.
I've been teaching since I was 35. I'm now 76. In that time there have been a few changes. Click here if you want to find out a bit about my life.
No, I'm not selling yoga mats or clothing. I don't even have a t-shirt... yet. But from time to time I find myself with something that someone may want. Have a look, I'm never sure what you'll find.
I put this Savasana on YouTube in 2012.
Since then it has been viewed (or listened to) over 365,000 times.