Between 14 May 2012 and 22 February 2013 I worked my way through the 196 Sutra of Patanjali. I called the project "A Sutra a Day". I tried to relate each of the Sutra to my life in a personal way. Here are the results.
Click here
Eve Grzybowski
Yoga Suits Her
I've been teaching yoga since 1980. A lot of my identity is tied up with being a yoga teacher. What does that mean? What should that mean? On this site I explore my personal journey and provide commentary on the state of yoga in the twenty-first century. I invite you to have a look and see what may be here for you.
Photo by: Julie Slavin Photography, Old Bar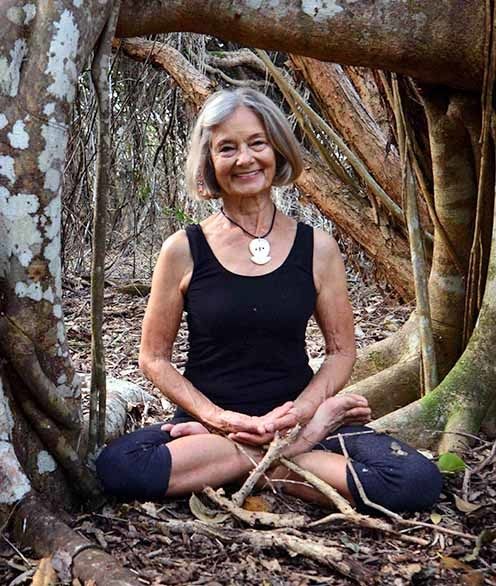 Recently I had the pleasure of assisting international yoga teacher, Donna Farhi, in her Sydney workshop 'Mastering the Art of Adjustment'. Donna started off by having us think about what our approach to learning is. Do we, for instance, learn by rote or by enquiry? And, what prior learning do we take into new situations that impacts the way we interact with our students.
It's not often that we take the time to examine how we know what we know and how it influences the way in which we relate to others. This was a slow and methodical beginning to our two days together. But, by the end of the workshop, we had the foundations to make respectful and intelligent adjustments.
I've taught many different aspects of yoga, but I do have my favourite subjects. One of these is the art of touch and the adjusting of students in poses.
The point of adjustments, in my view, is to enhance students' understanding of what they are doing in their practice. To do this well, the yoga teacher needs to grasp that there are three dominant styles of learning. Have a look at these: main styles of learning. One of these is learning through experience or kinaesthetically (the way I learn best). I've discovered through my thirty five plus years of teaching that a large number of yoga teachers learn kinaesthetically. Of course, we need to have developed visual and auditory teaching skills, too.
Information conveyed by teachers through the art of touch can be immediate and effective . It's because the skin is the largest organ in your body. We have almost a million sensory receptors in our skin that communicate with the central nervous system. Without even having to think about it, we get constant information about temperature, pressure and discomfort.
So teachers need to learn sensitivity of touch. As well as the ability to centre, to have clear intentions and to attune to breathing. The more opportunities for trainees and teachers to practice adjusting in and out of workshops, the better.
I will be offering a one-day workshop in Sydney Saturday November 24 at The Yoga Nook. If you think you might be interested in attending, you can contact Linda Apps: linda@yoganook.com.au or leave a message 95509155.
I should mention that a few years ago I wrote a book called 'The Art of Adjustment'. I created this manual mainly to help trainees improve their understanding of adjusting. It seems that this is a topic that isn't always addressed in yoga teacher trainings.
What's special about the way we produced the book is that you can down-load it straight onto your computer. You get text and photographs, as well as, audio (my voice). There are 38 fundamental yoga adjustments described in the book. And, the reader/listener gets a practical and basic insight into just what sensitivity of touch is.
The 'Art of Adjustment' is available at the Live Yoga Life website.
read more
I've taught many different aspects of yoga, but I do have my favourite subjects. I was able to teach one of these yesterday–yoga adjustments–at Forster Yoga Studio. I presented theory and practice on the hands-on, physical way of instructing students in postures.
In an article in "Yoga Suits Her, I described three main styles of learning. One of them is kinaesthetic. I'm someone who learns this way–hands-on, experientially. I've discovered through my teaching over thirty-five years that a disproportionate number of yoga teachers learn kinaesthetically. […]
read more
Benefits:
Stretches your shoulders and improves the flexibility of your upper back.
Calms the brain and nervous system
Improves digestion ans massages and stimulates the thyroid and parathyroid glands.
Flushes mucous from your lungs.
Helps relieve the symptoms of menopause.
Here's a youtube video to help you find your way into the pose (easier than you think):
[…]
read more
It's been out of print for 15 or more years but now it's back. It's available as a paperback as well as a range of digital formats for different devices. The design of this edition is modelled as closely as possible on the original release from 1997.
(Note: Book retailers set their own prices that are all different and constantly change.  It's worth shopping around for the best price.)
Any bookshop, whether online or bricks and mortar, can order copies of Teach Yourself Yoga.  Just ask and quote ISBN: 978-0-6487945-0-9.
Please send me feedback about the book.  I'd love to hear about any errors or problems with eBooks on various devices.  And please review the book wherever you get it.  Reviews will help more people discover the book.
Yoga Basics Pack. $24.95
10-week beginners Yoga course.
Specially designed for beginners, Yoga Basics is an easy to follow program for better health, flexibility and peace of mind. This pack contains 10 beautifully illustrated cards, one for each week of a ten-week course that tie a clear, practical and portable guide to getting started in yoga.
Yoga Tool Kit. $24.95
10 beautifully illustrated cards that give clear, practical and portable programs to meet a variety of needs. The customised sequences help provide holistic healthcare – better health, flexibility and peace of mind – so you can stay on top of your daily requirements with a safe and effective regime. Practices for boosting the immune system, insomnia, menstruation, post travel, low backache, stress and anxiety relief, fatigue, encouraging mental balance, managing menopause and regenerating.
I'm currently teaching two weekly classes on the Mid-North Coast of New South Wales where I live. I also lead workshops here and in other parts of Australia.
I've been regularly contributing to this blog since 2009.  There are now over 1250 posts about a very wide range of topics. Click here to explore.
Books, videos, teachers, websites, places to buy really hot yoga clothes (kidding), and generally anything I find that I think others might find useful.
I've been teaching since I was 35. I'm now 76. In that time there have been a few changes. Click here if you want to find out a bit about my life.
No, I'm not selling yoga mats or clothing. I don't even have a t-shirt... yet. But from time to time I find myself with something that someone may want. Have a look, I'm never sure what you'll find.
I put this Savasana on YouTube in 2012.
Since then it has been viewed (or listened to) over 365,000 times.