Between 14 May 2012 and 22 February 2013 I worked my way through the 196 Sutra of Patanjali. I called the project "A Sutra a Day". I tried to relate each of the Sutra to my life in a personal way. Here are the results.
Click here
Eve Grzybowski
Yoga Suits Her
I've been teaching yoga since 1980. A lot of my identity is tied up with being a yoga teacher. What does that mean? What should that mean? On this site I explore my personal journey and provide commentary on the state of yoga in the twenty-first century. I invite you to have a look and see what may be here for you.
Photo by: Julie Slavin Photography, Old Bar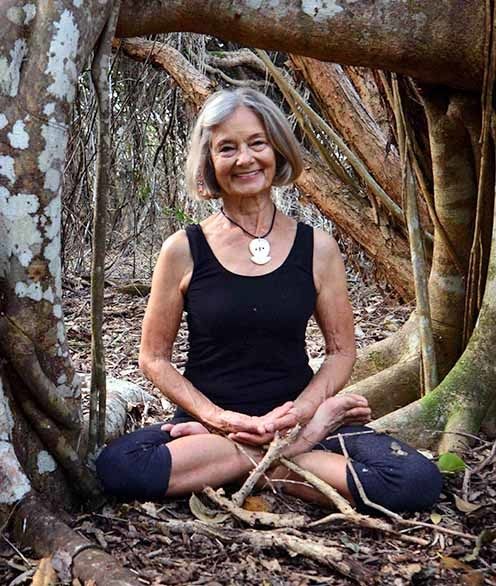 Featured videos from my YouTube channel
I've been adding meditations, short instructional video and an ever-growing selection of complete yoga classes. Click on any of these below videos to view them directly. Or click on the button below to explore the entire channel.
You may have noticed that there's been a lot of unkind behaviour in the Australian political arena recently. Okay, this may not be at all unusual. It seems that bad manners become badder when there's an important seat up for election. Read the 'blue ribbon' the seat of Wentworth. This one had the Liberals introducing all sorts of hanky panky leading up to the by-election.
Worse and more dangerous behaviour was on display in America this last week. Acts of terrorism perpetrated by a crazy individual have demonstrated the terrible rift in U.S. society. It's been there forever, it seems, and is surfacing now in bold and disturbing ways. Is it unfolding in this way because the American President is encouraging it?
I don't mean to be joining a political debate with this particular post. It's just that I read the signature of a friend's email that included 'Make American Kind' and thought, yes! But then, my next thought was, if you try to make a nation kind, aren't you just opening the door to opposition? You're likely to polarise the people who don't hold to kindness, who in fact subscribe to the exact reverse. You know the expression, 'what you resist persists.'
So how do we go about creating a kind and loving world? I certainly don't have a plan. But I do know that, personally, I need plenty of practice in being kind. I need so much practice! I'm sure that is why I'm drawn to yoga. It's because every pose and every breath can be a practical reminder to be kind to myself, to my body, to my mind.
Yoga is a practice that helps me take care of my body, mind and spirit through the variety of practices I do. If I'm feeling sluggish, I might want to do a physically energetic routine. If I need rest, there's restorative yoga. Practising mindfulness makes more me aware of my thoughts, words and deeds and their influence on others. Loving kindness practice gets to the heart of being kind. My spirit is lifted by pranayama and simply being quiet and inward.
Does what I do make a difference in creating a kind world? I hope so.
In 1996, I wrote these words which are the last paragraph of my book, Teach Yourself Yoga. I think they are as true now as ever.
Ultimately, I believe, one's personal practices carry over into the public sphere. The healthy choices you make for yourself, such as doing a regular yoga practice, contribute to the wellbeing of others every bit as much as to yourself.

One characteristic of mature yoga practice is that the energy you generate for yourself and your own healing can be directed outwards towards humanity and the planet.

When you quieten your constant mind chatter, you are able to think and see far more clearly. This enables you to evaluate situations objectively and, because your mind is disciplined, you know what needs to be done (or not done) to make your unique contribution to life.

There are many things to attend to in doing yoga, the most important of which are your attitude and your awareness. Developing these is a process that is simple, but not necessarily easy. It is, after all, life training. You are building up a muscle for taking care of yourself on all levels — body, mind and spirit. In the beginning, especially, you have to work at it, but the rewards are great. Persevere.
read more
You may have noticed that there's been a lot of unkind behaviour in the Australian political arena recently. Okay, this may not be at all unusual. It seems that bad manners become badder when there's an important seat up for election. Read the 'blue ribbon' the seat...
read more
The civilized man has built a coach, but has lost the use of his feet.
Ralph Waldo Emerson
Since being on an extended overseas holiday, I've been contradicting Emerson's opinion of the civilized person. Rather, I've been experiencing what author and philosophy professor Frederic Gros calls 'a life scrubbed bare' and an affirmation of the simple life: walking.
Certain cities of the world are made for walking. I've just spent three days in one of them, Old Quebec. […]
read more
It's been out of print for 15 or more years but now it's back. It's available as a paperback as well as a range of digital formats for different devices. The design of this edition is modelled as closely as possible on the original release from 1997.
(Note: Book retailers set their own prices that are all different and constantly change.  It's worth shopping around for the best price.)
Any bookshop, whether online or bricks and mortar, can order copies of Teach Yourself Yoga.  Just ask and quote ISBN: 978-0-6487945-0-9.
Please send me feedback about the book.  I'd love to hear about any errors or problems with eBooks on various devices.  And please review the book wherever you get it.  Reviews will help more people discover the book.
Yoga Basics Pack. $24.95
10-week beginners Yoga course.
Specially designed for beginners, Yoga Basics is an easy to follow program for better health, flexibility and peace of mind. This pack contains 10 beautifully illustrated cards, one for each week of a ten-week course that tie a clear, practical and portable guide to getting started in yoga.
Yoga Tool Kit. $24.95
10 beautifully illustrated cards that give clear, practical and portable programs to meet a variety of needs. The customised sequences help provide holistic healthcare – better health, flexibility and peace of mind – so you can stay on top of your daily requirements with a safe and effective regime. Practices for boosting the immune system, insomnia, menstruation, post travel, low backache, stress and anxiety relief, fatigue, encouraging mental balance, managing menopause and regenerating.
I'm currently teaching two weekly classes on the Mid-North Coast of New South Wales where I live. I also lead workshops here and in other parts of Australia.
I've been regularly contributing to this blog since 2009.  There are now over 1250 posts about a very wide range of topics. Click here to explore.
Books, videos, teachers, websites, places to buy really hot yoga clothes (kidding), and generally anything I find that I think others might find useful.
I've been teaching since I was 35. I'm now 76. In that time there have been a few changes. Click here if you want to find out a bit about my life.
No, I'm not selling yoga mats or clothing. I don't even have a t-shirt... yet. But from time to time I find myself with something that someone may want. Have a look, I'm never sure what you'll find.