Between 14 May 2012 and 22 February 2013 I worked my way through the 196 Sutra of Patanjali. I called the project "A Sutra a Day". I tried to relate each of the Sutra to my life in a personal way. Here are the results.
Click here
Eve Grzybowski
Yoga Suits Her
I've been teaching yoga since 1980. A lot of my identity is tied up with being a yoga teacher. What does that mean? What should that mean? On this site I explore my personal journey and provide commentary on the state of yoga in the twenty-first century. I invite you to have a look and see what may be here for you.
Photo by: Julie Slavin Photography, Old Bar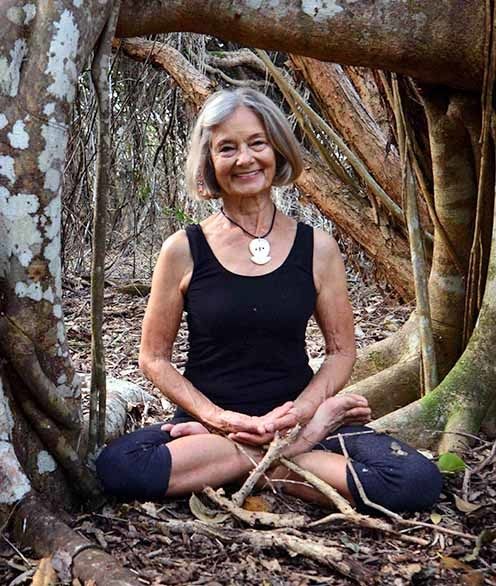 Featured videos from my YouTube channel
I've been adding meditations, short instructional video and an ever-growing selection of complete yoga classes. Click on any of these below videos to view them directly. Or click on the button below to explore the entire channel.
If you would like to make a donation to my continuing to create my videos and recordings, please click HERE.
All of my videos are also available on this website.
Adapting to uncertainty
The expression, 'May you live in interesting times', Wikipedia tells me has been wrongly touted as a Chinese curse. Whatever the expression is supposed to mean, this particular period we are living through is undoubtably confusing and destabilising.
Moreover, this COVID period is not so much 'interesting' as it is devastating. It's a worldwide phenomenon, but now it feels like raiders are circling around the safety of our tranquil semi-rural home and getting closer and closer.
Finally, COVID has landed on our doorstep, not that anyone in our household has the virus, but we are officially 'close contacts' of someone who stayed with us over the holidays.
Practising our required self-isolation wouldn't be so terrible except that my housemate Michael and I have been running our annual yoga and meditation Intensive this week. As of today, we've had to step aside to allow Julie Spicer from Yoga at Wallabi to cover for us, hopefully just until the last day of our course.
Julie is hugely capable and we are so grateful for her willingness to lead in our absence, having had only a half days notice. I know that she is doing this for the love of the community that we've brought together. Ironically, one of the goals of our Intensive is 'Getting Ourselves Together -- as a community and in ourselves'.
Last year the theme of our Intensive was 'Comfort in Uncertainty'. Our flyer said:
One thing is certain. 2020 has generated much uncertainty and trauma. But perhaps there are blessings and lessons for us in the crisis. Join us to explore this possibility. Begin your year, renew and reinvigorate with two hours of yoga and mindfulness practice. 
 Create calm in the chaos!
Calm in the chaos, indeed!
When we heard the news about our 'close contact', I found it difficult to find the information that's meant to be provided by our government that would tell us exactly how to proceed. Michael and I spent hours poring over NSW and National COVID websites and then trying to determine what was required of us in terms of isolation and PCR and RATS testing. We were determined to be compliant with the rules, as much as we could understand them, so we could have our Intensive cohort feel confident and safe.
After we figured out a plan, we devoted another few hours to phoning all participants to see if, with an understanding of the situation, people wanted to continue in the course. Every single person whom we contacted was in favour of staying the distance. It pays to be completely honest.
---
Living in the moment
It is breathtakingly beautiful on Mitchells Island today. We've had tropical rain, that is, downpours alternately with sunshine and rainbows. All the gardens and forests are verdant and lush, with that particular fresh, sweet after-rain smell. The Manning River is peaceful and luminous at 6 am as our intensive participants cross over the two bridges to get to the community hall.
There is much that we can be grateful for, even with the virus skulking in the background, but now moving more and more in the foreground.
It is my wish for myself and for you that we make it through these uncertain times holding each other in loving kindness. To me, this is the point of sitting in meditation and doing our yoga practices, isn't it?
read more
There is much that we can be grateful for, even with the virus skulking in the background, but now moving more and more in the foreground.
It is my wish for myself and for you that we make it through these uncertain times holding each other in loving kindness. To me, this is the point of sitting in meditation and doing our yoga practices, isn't it?
read more
This is one of my favourite techniques for gaining perspective when I am confused or conflicted. Imagine climbing a ladder to get a view of the forest, rather than just focussing on this tree right in front of you. From your expanded view, you can see horizons and in all directions.
Consider the billions of people on the planet that are doing it much harder than we are. As well as the past and future generations who are likely to face greater hardships than we have or will.
read more
It's been out of print for 15 or more years but now it's back. It's available as a paperback as well as a range of digital formats for different devices. The design of this edition is modelled as closely as possible on the original release from 1997.
(Note: Book retailers set their own prices that are all different and constantly change.  It's worth shopping around for the best price.)
Any bookshop, whether online or bricks and mortar, can order copies of Teach Yourself Yoga.  Just ask and quote ISBN: 978-0-6487945-0-9.
Please send me feedback about the book.  I'd love to hear about any errors or problems with eBooks on various devices.  And please review the book wherever you get it.  Reviews will help more people discover the book.
Yoga Basics Pack. $24.95
10-week beginners Yoga course.
Specially designed for beginners, Yoga Basics is an easy to follow program for better health, flexibility and peace of mind. This pack contains 10 beautifully illustrated cards, one for each week of a ten-week course that tie a clear, practical and portable guide to getting started in yoga.
Yoga Tool Kit. $24.95
10 beautifully illustrated cards that give clear, practical and portable programs to meet a variety of needs. The customised sequences help provide holistic healthcare – better health, flexibility and peace of mind – so you can stay on top of your daily requirements with a safe and effective regime. Practices for boosting the immune system, insomnia, menstruation, post travel, low backache, stress and anxiety relief, fatigue, encouraging mental balance, managing menopause and regenerating.
I'm currently teaching two weekly classes on the Mid-North Coast of New South Wales where I live. I also lead workshops here and in other parts of Australia.
I've been regularly contributing to this blog since 2009. There are now over 1250 posts about a very wide range of topics. Click here to explore.
Books, videos, teachers, websites, places to buy really hot yoga clothes (kidding), and generally anything I find that I think others might find useful.
I've been teaching since I was 35. I'm now 76. In that time there have been a few changes. Click here if you want to find out a bit about my life.
No, I'm not selling yoga mats or clothing. I don't even have a t-shirt... yet. But from time to time I find myself with something that someone may want. Have a look, I'm never sure what you'll find.