Between 14 May 2012 and 22 February 2013 I worked my way through the 196 Sutra of Patanjali. I called the project "A Sutra a Day". I tried to relate each of the Sutra to my life in a personal way. Here are the results.
Click here
Eve Grzybowski
Yoga Suits Her
I've been teaching yoga since 1980. A lot of my identity is tied up with being a yoga teacher. What does that mean? What should that mean? On this site I explore my personal journey and provide commentary on the state of yoga in the twenty-first century. I invite you to have a look and see what may be here for you.
Photo by: Julie Slavin Photography, Old Bar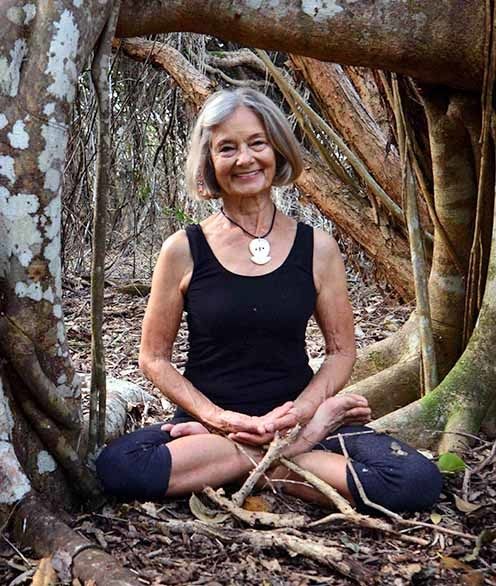 It's nearly autumn in Australia. Here on the East Coast we've experienced the hottest summer in many a year. Fortunately, the weather has become milder recently, but still exceedingly humid.
With a hint of cool weather in the air, Australians are beginning to dream about setting off in their vans for northern coasts, inland lakes and The Outback.
This Saturday Daniel and I will do just that. We will head off for an 11-week sojourn, towing our A-Van-home-on-wheels. The centrepiece of this trip will be a singing workshop called The Big Sing in the Desert. Non-indigenous singers will be joining with central desert women choristers for a 4-day workshop in the East McDonnell Ranges.
I will of course pack my yoga mat.
I know from experience that my body will take a pounding driving for hours over many days. So, I will probably also take along two foam blocks and a couple of yoga blankets.
When I'm travelling, well-being needs to be made a priority as there are on-the-road stresses. There's the lack of control over normal dietary needs. You eat various foods that you are not habituated to and sometimes finish up eating at strange mealtimes.
With any luck, I might find sanctuary in a yoga class somewhere between Dubbo and Quorn. Or, between the Oonadatta Track and Mt. Isa. Small town classes often present unusual interpretations from the yoga I'm used to. But usually a yoga centre's ambiance is peaceful and no doubt I'll feel rehabilitated just by coming home to my body.
Speaking of homecomings, one of the YogaAnywhere cards that we designed for special situations is for recovery from travel. If you are anticipating holiday or business travel, do have a look at these cards.
Here's a couple of hints from the travel sequence:
A Simple Breathing Exercise – Upon arriving at your stopping place find a quiet spot to lie down with your legs up the wall and stay for five or ten minutes. To help you feel more grounded, observe your breath, while breathing completely naturally.

Supported Poses – If you find that your energy goes up and down throughout the day on which you arrive, do Supta Baddha Konasana or Setu Bandhasana for 5-10 minutes.
Here are some additional common sense suggestions for post travel recovery:
You can't do better than walking on the beach or in the bush. If you are travelling through different time zones, sunshine in limited exposure will help reset your biorhythms. Wholesome meals are important, too. Eating meals at regular times is nurturing–if possible ones that you've cooked yourself.

Best of all for your wellbeing is home yoga practice, as much as you want, any time. When space and time are limited, keep it simple. Make the focus watching your breath and practising relaxation.
I hope you'll stay tuned to FB so you'll be able to come along for the ride.
read more
It's nearly autumn in Australia. Here on the East Coast we've experienced the hottest summer in many a year. Fortunately, the weather has become cooler recently, but still exceedingly humid.No matter what the weather is like this time of year, Australians are beginning to dream about setting off in their vans for northern coasts, inland lakes and The Outback. 
read more
How is it that our own beauty and goodness seem hidden from us? In my healing journey, the way to seeing my beautiful self has necessitated shining a light onto my shadow side. Uncomfortable as that process is, I know that the tender exposure of my negativity is the path to the goodies, Beauty being one of them.
read more
It's been out of print for 15 or more years but now it's back. It's available as a paperback as well as a range of digital formats for different devices. The design of this edition is modelled as closely as possible on the original release from 1997.
(Note: Book retailers set their own prices that are all different and constantly change.  It's worth shopping around for the best price.)
Any bookshop, whether online or bricks and mortar, can order copies of Teach Yourself Yoga.  Just ask and quote ISBN: 978-0-6487945-0-9.
Please send me feedback about the book.  I'd love to hear about any errors or problems with eBooks on various devices.  And please review the book wherever you get it.  Reviews will help more people discover the book.
Yoga Basics Pack. $24.95
10-week beginners Yoga course.
Specially designed for beginners, Yoga Basics is an easy to follow program for better health, flexibility and peace of mind. This pack contains 10 beautifully illustrated cards, one for each week of a ten-week course that tie a clear, practical and portable guide to getting started in yoga.
Yoga Tool Kit. $24.95
10 beautifully illustrated cards that give clear, practical and portable programs to meet a variety of needs. The customised sequences help provide holistic healthcare – better health, flexibility and peace of mind – so you can stay on top of your daily requirements with a safe and effective regime. Practices for boosting the immune system, insomnia, menstruation, post travel, low backache, stress and anxiety relief, fatigue, encouraging mental balance, managing menopause and regenerating.
I'm currently teaching two weekly classes on the Mid-North Coast of New South Wales where I live. I also lead workshops here and in other parts of Australia.
I've been regularly contributing to this blog since 2009.  There are now over 1250 posts about a very wide range of topics. Click here to explore.
Books, videos, teachers, websites, places to buy really hot yoga clothes (kidding), and generally anything I find that I think others might find useful.
I've been teaching since I was 35. I'm now 76. In that time there have been a few changes. Click here if you want to find out a bit about my life.
No, I'm not selling yoga mats or clothing. I don't even have a t-shirt... yet. But from time to time I find myself with something that someone may want. Have a look, I'm never sure what you'll find.
I put this Savasana on YouTube in 2012.
Since then it has been viewed (or listened to) over 365,000 times.