Between 14 May 2012 and 22 February 2013 I worked my way through the 196 Sutra of Patanjali. I called the project "A Sutra a Day". I tried to relate each of the Sutra to my life in a personal way. Here are the results.
Click here
Eve Grzybowski
Yoga Suits Her
I've been teaching yoga since 1980. A lot of my identity is tied up with being a yoga teacher. What does that mean? What should that mean? On this site I explore my personal journey and provide commentary on the state of yoga in the twenty-first century. I invite you to have a look and see what may be here for you.
Photo by: Julie Slavin Photography, Old Bar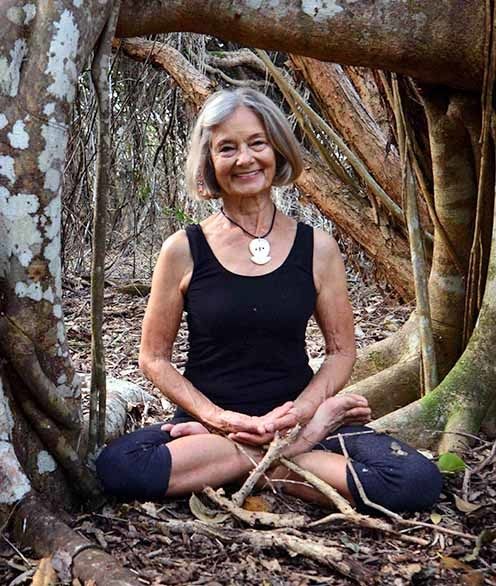 Featured videos from my YouTube channel
I've been adding meditations, short instructional video and an ever-growing selection of complete yoga classes. Click on any of these below videos to view them directly. Or click on the button below to explore the entire channel.
(I wrote about Swami Satyadharma Saraswati in a 2012 post. You can read about her life below.)
Swami Satyadharma Saraswati D. 12/6/19
Several years ago, I recommended there was a must-attend event and yogis needed to go along to it. Swami Satyadharma, a powerful and authentic presence, was going to be presenting at the Yoga Australia Conference. The 'real deal', I had described her. That post was titled, 'Not to be Missed'.
Sadly now, with her death June 12, 2019, she will be very much missed.
I found out just how much her students will miss her at the yoga teachers' retreat I attended this last weekend. Swami was meant to be one of the teachers presenting, along with Mega Jones and myself.
Instead of having Swami presenting to us, there was a celebration and honouring of her, lovingly organised by Megan. The form this took was something called a Flower Havan.
This was my introduction to a Havan. It is a sacred ceremony that is rooted in Vedic yoga traditions. It involves offering flowers and devotional music to the Divine Feminine. The intention is to let go of what doesn't serve us any longer, as well as open us to the new and beneficial.
I wish I could describe how beautiful this ceremony was, beginning with the way Megan and her helpers set up the yoga room. A warming fire in the fireplace, candles, fragrant flowers and prasad (Sarah Chef's divine raspberry/blueberry/cashew cheesecake).
Those who had been touched by Swami, inspired and transformed by her presence, were fortunate indeed. The Flower Haven gave an opportunity to others of us who hadn't had as close and enduring a relationship with her to experience her through their love.
There will be a further opportunity to celebrate Swami, her contribution and her inspiration, on June 29th at Mangrove Yoga, just click on this link.
A Transformative Presence
I was privileged to meet Swami Satyadharma Saraswati while attending the Divine Feminine Conference. She spoke cogently and passionately on some aspects of yoga that might ordinarily be deemed esoteric. In her manner of explaining, abstract concepts became alive for me and accessible.
Swami Satyadharma Saraswati was born in the USA. She resided in India continuously for 35 years as a Sannyasin, spiritual renunciate, and teacher of Yogic Science. She was a highly experienced practitioner and teacher of the classical yogic systems within Satyananda Yoga. She spent many years under the direct tutelage of Paramahamsa Satyananda and his chief successor Swami Niranjanananda.
During that time, she played a key role in the development of the Bihar School of Yoga as well as the Bihar Yoga Bharati, the world's first Yogic University.
Since the year 2000, in accordance with her guru's mandate, she spent part of each year, touring overseas, delivering workshops and seminars. She was chosen by Swami Niranjanananda as the official Yoga Ambassador to formally represent Satyananda/Bihar Yoga internationally and specifically in South East Asia and Australasia.
Certain individuals are the real deal in yoga, mainly because they are steeped in personal practice over many years. Swami Satyadharma Saraswati was one of these, a beautiful–a beautiful soul, inside and out.
read more
I was privileged to meet Swami Satyadharma Saraswati while attending the Divine Feminine Conference. She spoke cogently and passionately on some aspects of yoga that might ordinarily be deemed esoteric. In her manner of explaining, abstract concepts became alive for me and accessible.
read more
Yoga BeginningsDo you like to be a beginner? At times I think that I don't, but once I have additional skills and knowledge under my belt, it feels great.The domain of neuroscience and neuroplasticity informs us oldies that we need to keep our grey matter fresh through on-going learning. We especially need the sorts of complicated learning that challenges our brains and creates new neural pathways.The most transformative learning experiences I've had have been through the pursuit of yoga.Being a beginner in Iyengar Yoga is still a vivid experience for me. It was mid-week October 1979. […]
read more
It's been out of print for 15 or more years but now it's back. It's available as a paperback as well as a range of digital formats for different devices. The design of this edition is modelled as closely as possible on the original release from 1997.
(Note: Book retailers set their own prices that are all different and constantly change.  It's worth shopping around for the best price.)
Any bookshop, whether online or bricks and mortar, can order copies of Teach Yourself Yoga.  Just ask and quote ISBN: 978-0-6487945-0-9.
Please send me feedback about the book.  I'd love to hear about any errors or problems with eBooks on various devices.  And please review the book wherever you get it.  Reviews will help more people discover the book.
Yoga Basics Pack. $24.95
10-week beginners Yoga course.
Specially designed for beginners, Yoga Basics is an easy to follow program for better health, flexibility and peace of mind. This pack contains 10 beautifully illustrated cards, one for each week of a ten-week course that tie a clear, practical and portable guide to getting started in yoga.
Yoga Tool Kit. $24.95
10 beautifully illustrated cards that give clear, practical and portable programs to meet a variety of needs. The customised sequences help provide holistic healthcare – better health, flexibility and peace of mind – so you can stay on top of your daily requirements with a safe and effective regime. Practices for boosting the immune system, insomnia, menstruation, post travel, low backache, stress and anxiety relief, fatigue, encouraging mental balance, managing menopause and regenerating.
I'm currently teaching two weekly classes on the Mid-North Coast of New South Wales where I live. I also lead workshops here and in other parts of Australia.
I've been regularly contributing to this blog since 2009.  There are now over 1250 posts about a very wide range of topics. Click here to explore.
Books, videos, teachers, websites, places to buy really hot yoga clothes (kidding), and generally anything I find that I think others might find useful.
I've been teaching since I was 35. I'm now 76. In that time there have been a few changes. Click here if you want to find out a bit about my life.
No, I'm not selling yoga mats or clothing. I don't even have a t-shirt... yet. But from time to time I find myself with something that someone may want. Have a look, I'm never sure what you'll find.