Between 14 May 2012 and 22 February 2013 I worked my way through the 196 Sutra of Patanjali. I called the project "A Sutra a Day". I tried to relate each of the Sutra to my life in a personal way. Here are the results.
Click here
Eve Grzybowski
Yoga Suits Her
I've been teaching yoga since 1980. A lot of my identity is tied up with being a yoga teacher. What does that mean? What should that mean? On this site I explore my personal journey and provide commentary on the state of yoga in the twenty-first century. I invite you to have a look and see what may be here for you.
Photo by: Julie Slavin Photography, Old Bar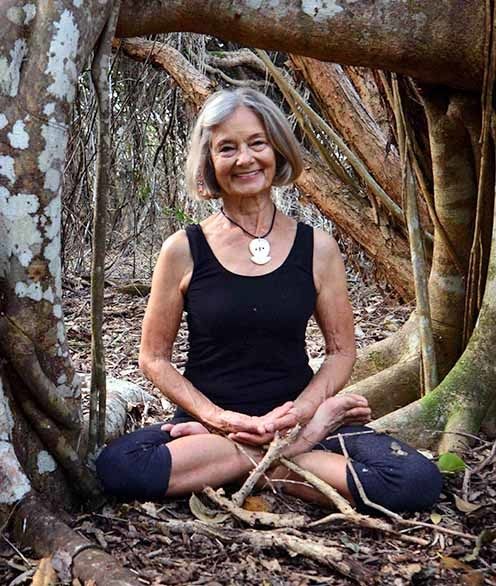 Featured videos from my YouTube channel
I've been adding meditations, short instructional video and an ever-growing selection of complete yoga classes. Click on any of these below videos to view them directly. Or click on the button below to explore the entire channel.
If you would like to make a donation to my continuing to create my videos and recordings, please click HERE.
All of my videos are also available on this website.
The Incident
Last week I had an accident with my car. Ironically I was pulling into Old Bar Automotive to get my registration check. The car was sporting four new tyres to help guarantee that my Kia would pass inspection.
I missed the garage's dirt driveway by just enough to land the car on top of a concrete culvert, basically putting me in a ditch, unable to move.
Why am I telling you this? Good question. I think I wanted to share with you, my readers, to help me release more of the shame I felt about this incident. Because that was indeed my first reaction...that I'd done something very shameful.
The accident was noisy and the two auto mechanics came running out to see what happened, which was pretty obvious. Fortunately, I wasn't hurt and the car didn't seem to be noticeably damaged either. The first words out of my mouth were: Has anyone ever done this before? In unison, my new friends the mechanics nodded their heads 'yes'. On a mood scale of one to ten, I felt 1.5 points better.
With their prior experience, the mechanics knew exactly what to do. Pete the Tow Truck driver needed to come out to save the day. He was on site within the hour. I spent that hour in self-flagellation, pacing the driveway in the hot summer sun because I couldn't sit still. One of the dark tunnels I went down in my mind had me decide I was a dangerous driver and should give it up. Maybe even thinking it was because I was 77 years old--old!
The recovery
Pete and his tow truck did a stellar job of getting the car back on the road. He was courteous, quick and kind, and so were the mechanics. David put the car up on the vehicle hoist, checked it over and drove it around the block. It was fine and passed rego.
I was getting a little bit fine, too. I'll tell you what helped the most, and perhaps this is the reason to write my piece. I stopped beating myself up and changed my internal dialogue to be about gratitude. I was so thankful to those guys that self-criticism got trumped. I finally got to recognise that I had an accident. I'm human, had been rather tired after a busy day and as a result I'd had an accident. I needed to treat myself as kindly as those blokes had.
I firmly believe that telling the stories of our foibles and failings is the way out of shame. Being vulnerable and authentic are two goals that I've embraced. Perhaps 'the universe' throws accidents, illnesses, breakdowns, breakups and such in our path to test our ability, not to overcome them, but to remind us of our humanity.
If you'd like to read a little more about being human, here is a vintage post: Take Care: Pedestals Are for Statues Not People.
read more
The Incident Last week I had an accident with my car. Ironically I was pulling into Old Bar Automotive to get my registration check. The car was sporting four new tyres to help guarantee that my Kia would pass inspection. I missed the garage's dirt driveway by just...
read more
The problem is the creek did rise. We live next to Scotts Creek, Mitchells Island, NSW, and the creek rose and rose and rose. Then it burst its bank.
Up in our house, safe on a hill, we watched as Farmer John's next-door paddocks filled. John had seen the flood coming and moved his cattle to safety. That day, it rained and rained, everyone calling it biblical. At 4 am, the caravan park at Manning Point was hit by a flash flood. The proprietor shook the van occupants out their slumber and some, still in p.j.'s, made a run for high ground.
read more
It's been out of print for 15 or more years but now it's back. It's available as a paperback as well as a range of digital formats for different devices. The design of this edition is modelled as closely as possible on the original release from 1997.
(Note: Book retailers set their own prices that are all different and constantly change.  It's worth shopping around for the best price.)
Any bookshop, whether online or bricks and mortar, can order copies of Teach Yourself Yoga.  Just ask and quote ISBN: 978-0-6487945-0-9.
Please send me feedback about the book.  I'd love to hear about any errors or problems with eBooks on various devices.  And please review the book wherever you get it.  Reviews will help more people discover the book.
Yoga Basics Pack. $24.95
10-week beginners Yoga course.
Specially designed for beginners, Yoga Basics is an easy to follow program for better health, flexibility and peace of mind. This pack contains 10 beautifully illustrated cards, one for each week of a ten-week course that tie a clear, practical and portable guide to getting started in yoga.
Yoga Tool Kit. $24.95
10 beautifully illustrated cards that give clear, practical and portable programs to meet a variety of needs. The customised sequences help provide holistic healthcare – better health, flexibility and peace of mind – so you can stay on top of your daily requirements with a safe and effective regime. Practices for boosting the immune system, insomnia, menstruation, post travel, low backache, stress and anxiety relief, fatigue, encouraging mental balance, managing menopause and regenerating.
I'm currently teaching two weekly classes on the Mid-North Coast of New South Wales where I live. I also lead workshops here and in other parts of Australia.
I've been regularly contributing to this blog since 2009. There are now over 1250 posts about a very wide range of topics. Click here to explore.
Books, videos, teachers, websites, places to buy really hot yoga clothes (kidding), and generally anything I find that I think others might find useful.
I've been teaching since I was 35. I'm now 76. In that time there have been a few changes. Click here if you want to find out a bit about my life.
No, I'm not selling yoga mats or clothing. I don't even have a t-shirt... yet. But from time to time I find myself with something that someone may want. Have a look, I'm never sure what you'll find.