Between 14 May 2012 and 22 February 2013 I worked my way through the 196 Sutra of Patanjali. I called the project "A Sutra a Day". I tried to relate each of the Sutra to my life in a personal way. Here are the results.
Click here
Eve Grzybowski
Yoga Suits Her
I've been teaching yoga since 1980. A lot of my identity is tied up with being a yoga teacher. What does that mean? What should that mean? On this site I explore my personal journey and provide commentary on the state of yoga in the twenty-first century. I invite you to have a look and see what may be here for you.
Photo by: Julie Slavin Photography, Old Bar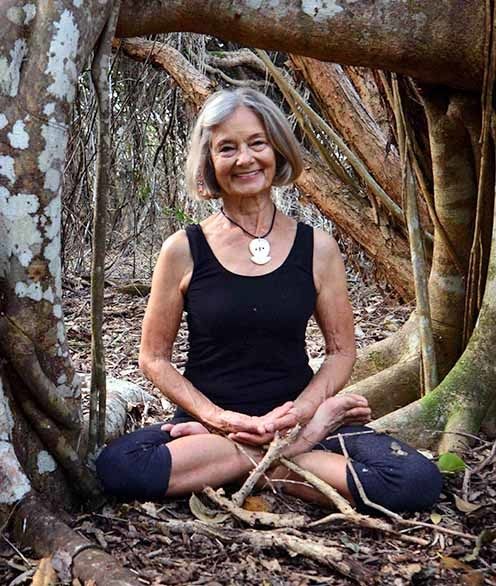 Amanda Frost
When a light goes out in the world, we can only hope that that peson's special spark has enkindled many other lights. In the case of two much-loved women, Amanda Frost and Jacqui Guiliano, this is patently true.
I knew Amanda Frost back in the eighties and nineties through yoga, shiastsu and also as a Bronte neighbour. There were a number of us women who I called the Bronte Belles: Karen, Pam, Mardi, Elisabeth, Amanda, and many more. We were dedicated to health and wellbeing, and all of us would go on to influence our wider communities.
I lost track of Amanda as she left Australia and based herself in Europe. Part of her journey was a long term battle with cancer.
I didn't know it, but she was also a warrior in the world of dog rescuers. Reading her eulogies on FB, you meet a woman who left a legacy of many thousands of dogs rescued from terrible conditions.
Amanda was beloved by her friends for her beauty, caring, loyalty and unstinting selflessness. Her light has now passed on to each of the owners of the countless dogs she saved.
Jacqui Guiliano
It might be audacious of me to think of students I've trained to teach yoga as my family, but it's true. So, I feel a great sadness to hear of Jacqui's death. Like Amanda, she faced off with cancer for a long time, and for a while it seemed like she might have won out.
Jacqui worked as an artist, as a yoga teacher and a retreat facilitator. She inspired students to want to teach yoga, too, a way of passing on her bright light and energy.
May the families and friends of Jacqui and Amanda be warmed by the incandescence of their good works, their memories and their legacies.
read more
Practising self-forgiveness along the bumpy roadI thought it would be easy, but no. In two weeks of travel up the coast of NSW, I've only managed a few yoga practices. 'Just do it!', I've advised students over the years. Set up a regular practice. Do it and you'll reap the benefits. If you do your practice regularly, it will become an unbreakable habit.Well, I'm feeling a little chagrined about the fact that habits are breakable. I'm not fitting in much practice time.Worse, my body is suffering. […]
read more
It's been out of print for 15 or more years but now it's back. It's available as a paperback as well as a range of digital formats for different devices. The design of this edition is modelled as closely as possible on the original release from 1997.
(Note: Book retailers set their own prices that are all different and constantly change.  It's worth shopping around for the best price.)
Any bookshop, whether online or bricks and mortar, can order copies of Teach Yourself Yoga.  Just ask and quote ISBN: 978-0-6487945-0-9.
Please send me feedback about the book.  I'd love to hear about any errors or problems with eBooks on various devices.  And please review the book wherever you get it.  Reviews will help more people discover the book.
Yoga Basics Pack. $24.95
10-week beginners Yoga course.
Specially designed for beginners, Yoga Basics is an easy to follow program for better health, flexibility and peace of mind. This pack contains 10 beautifully illustrated cards, one for each week of a ten-week course that tie a clear, practical and portable guide to getting started in yoga.
Yoga Tool Kit. $24.95
10 beautifully illustrated cards that give clear, practical and portable programs to meet a variety of needs. The customised sequences help provide holistic healthcare – better health, flexibility and peace of mind – so you can stay on top of your daily requirements with a safe and effective regime. Practices for boosting the immune system, insomnia, menstruation, post travel, low backache, stress and anxiety relief, fatigue, encouraging mental balance, managing menopause and regenerating.
I'm currently teaching two weekly classes on the Mid-North Coast of New South Wales where I live. I also lead workshops here and in other parts of Australia.
I've been regularly contributing to this blog since 2009.  There are now over 1250 posts about a very wide range of topics. Click here to explore.
Books, videos, teachers, websites, places to buy really hot yoga clothes (kidding), and generally anything I find that I think others might find useful.
I've been teaching since I was 35. I'm now 76. In that time there have been a few changes. Click here if you want to find out a bit about my life.
No, I'm not selling yoga mats or clothing. I don't even have a t-shirt... yet. But from time to time I find myself with something that someone may want. Have a look, I'm never sure what you'll find.
I put this Savasana on YouTube in 2012.
Since then it has been viewed (or listened to) over 365,000 times.