I've been teaching yoga since 1980. A lot of my identity is tied up with being a yoga teacher. What does that mean? What should that mean? On this site I explore my personal journey and provide commentary on the state of yoga in the twenty-first century. I invite you to have a look and see what may be here for you.
Photo by: Julie Slavin Photography, Old Bar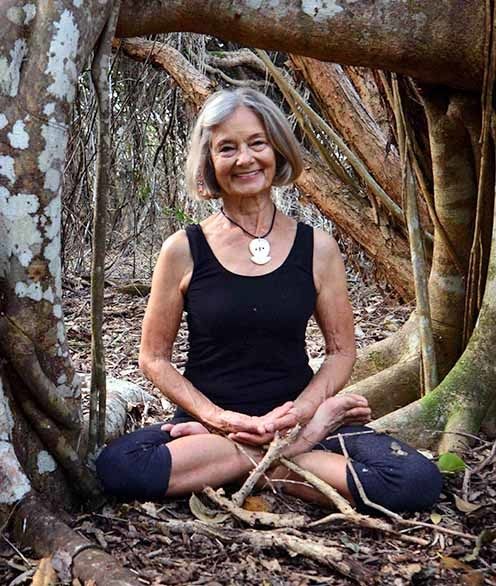 Featured videos from my YouTube channel
I've been adding meditations, short instructional video and an ever-growing selection of complete yoga classes.  Click on any of these below videos to view them directly.  Or click on the button below to explore the entire channel.
Restorative. Part 2: Self Care
Loving Kindness Meditation
Breathing Essentials: The Diaphragm
Forward Folding with Twists
Opening Shoulders: Working on Shoulder Blades
Access all videos by clicking on any of these buttons.

Donald Moyer, the Book Author
It's probably a mistake to think you know a person simply because of what they've written. But Donald Moyer, the much-loved California yoga teacher, wrote an exceptional book. It is called 'Awakening the Inner Body', and it delivers on its title.
I worked with Donald's book for the better part of 3 years. I live in a semi-rural area without the luxury of experienced teachers at my fingertips. The way the book was written, I felt like I had a highly trained teacher in the room with me.
Maybe some yogis wouldn't have had the patience to stay with the intricate instructions of 'Awakening the Inner Body'. Here's a 'for instance' for Tadasana: 'Adjust your pelvis so that your pelvic diaphragm is parallel to the floor, and the centre of your perineum is directly below the centre of your respiratory diaphragm.'
And another, in Paschimottanasana: 'Turn your xiphoid process toward your navel, widen your midsternum, and turn the front edge of your thoracic diaphragm away from the base of your throat.'
I learned fine points of anatomy that were new to me even after having studied anatomy and physiology in two courses. I admit, I had to grapple with Donald's vocabulary at times, and again and again. But it pointed me towards my own deeper bodily connections. Towards the embodied experience and, dare I say, a physical awakening. It generated pleasure and newness in my practice.
Donald the Man
I wrote to Donald after engaging with his book for some time. I wanted to thank him and let him know that I was going to be in California and wished to join one of his classes.
He was very gracious in responding to my email and allowed me to drop in to a class that was fully booked. Donald was dearly beloved by his students, yogis who had been guided by him for years. I felt fortunate to attend what turned our to be in essence an Iyengar-type class. However, Donald's approach was inquiry based: 'How does it feel to do the pose this way? Where does your effort come from? Might you do the pose in a way better-suited to your body?'
In the class, no one was intimidated into doing the pose the 'right way'. Rather we all felt free to explore and to let the poses unfold.
I had one other opportunity to do a class with Donald a couple of years later. At the end of the session, I hung back to ask a question. As he had seen me working through the class program, was there any one thing that stood out about the way I was doing poses? One bit of advice that I might take away.
He said, ' You try too hard.'
Leave it to Donald to give me a lesson for life.
read more
Donald was so beloved by his students, yogis who had followed him for years. I was fortunate to be given a place in what turned our to be essentially an Iyengar-type class. However, Donald's approach was inquiry based: 'How does it feel to do the pose this way? Where does your effort come from? Might you do the pose in a way better-suited to your body?'
read more
It's been out of print for 15 or more years but now it's back. It's available as a paperback as well as a range of digital formats for different devices. The design of this edition is modelled as closely as possible on the original release from 1997.
(Note: Book retailers set their own prices that are all different and constantly change.  It's worth shopping around for the best price.)
Any bookshop, whether online or bricks and mortar, can order copies of Teach Yourself Yoga.  Just ask and quote ISBN: 978-0-6487945-0-9.
Please send me feedback about the book.  I'd love to hear about any errors or problems with eBooks on various devices.  And please review the book wherever you get it.  Reviews will help more people discover the book.
I'm currently teaching two weekly classes on the Mid-North Coast of New South Wales where I live. I also lead workshops here and in other parts of Australia.
I've been regularly contributing to this blog since 2009. There are now over 1250 posts about a very wide range of topics. Click here to explore.
Books, videos, teachers, websites, places to buy really hot yoga clothes (kidding), and generally anything I find that I think others might find useful.
I've been teaching since I was 35. I'm now 76. In that time there have been a few changes. Click here if you want to find out a bit about my life.
No, I'm not selling yoga mats or clothing. I don't even have a t-shirt... yet. But from time to time I find myself with something that someone may want. Have a look, I'm never sure what you'll find.