Between 14 May 2012 and 22 February 2013 I worked my way through the 196 Sutra of Patanjali. I called the project "A Sutra a Day". I tried to relate each of the Sutra to my life in a personal way. Here are the results.
Click here
Eve Grzybowski
Yoga Suits Her
I've been teaching yoga since 1980. A lot of my identity is tied up with being a yoga teacher. What does that mean? What should that mean? On this site I explore my personal journey and provide commentary on the state of yoga in the twenty-first century. I invite you to have a look and see what may be here for you.
Photo by: Julie Slavin Photography, Old Bar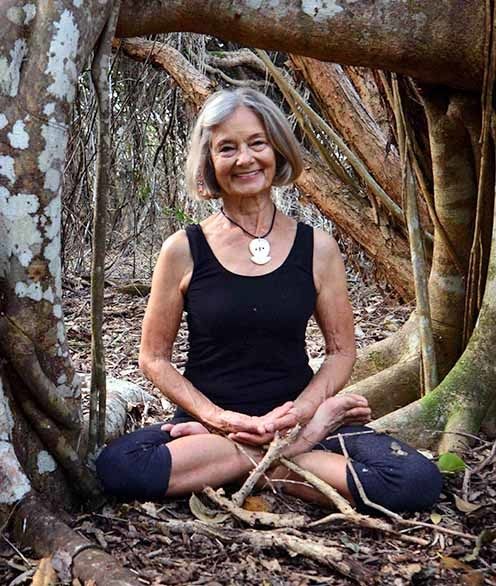 Featured videos from my YouTube channel
I've been adding meditations, short instructional video and an ever-growing selection of complete yoga classes. Click on any of these below videos to view them directly. Or click on the button below to explore the entire channel.
If you would like to make a donation to my continuing to create my videos and recordings, please click HERE.
All of my videos are also available on this website.

COVID-19 Time
It's four weeks since I've been self-isolating and since my yoga classes have been suspended.
One of the blessings of this quiet Corona Time is my long-established yoga practice. I've always thought of my yoga practice as an investment, as good as superannuation. Nearly 50 years of practice, and I can call on my investment deal with the stress of self-isolation. There are other solid regular rituals, too: walking on the beach, dinner with my housemates, phone calls to the kids and to my family in the States.
My friend Heather makes a good case for the value of rituals in a Shedders blog post written several years ago. Heather has kindly allowed me to republish it here.
Thee Power of Rituals
Last Saturday we had breakfast at a little café in the nearby town of Taree. This is noteworthy, because it was a break in a well-established pattern. Those of you who know us well will be saying, "What?! What happened to breakfast at the Waterbird?"
…Because Saturdays we have breakfast at the nearby Waterbird Restaurant, with several good friends. The previous Saturday we did that, and next Saturday the group will likely repeat the practice. The Waterbird has been in existence for seven years or so, and since it opened, we have shown up there almost every Saturday morning. Sometimes there are four or five of us, sometimes a dozen or more. There's no decision to be made about it: if people aren't away somewhere, they show up for Saturday breakfast.
I believe this getting together could be called a ritual.
The Waterbird is a modest restaurant right over the river at Manning Point (careful not to drop your keys). It used to be a bait and tackle shop, until Jim the Proprietor decided it was an even better location for a restaurant. So he renovated and expanded the little shop, donned an apron, tied back his long hair, hired a waitress and bought a coffee machine. The food is more than adequate and the ambiance is stunning. Dolphins, pelicans and cormorants abound. It's quite a place.
There's another layer to the ritual. Dozens of years ago back in The Big Smoke, after Eve's early morning Saturday yoga class, everyone would go out for breakfast and do the quiz from the Good Weekend magazine. This practice transported itself to Mitchells Island, and now you'll find the lot of us deeply engaged in the quiz while we wait for breakfast to arrive. There we are – a raucous group trying to sort out things like which two countries start with the letter Z, or who has the most ever Olympic medals, or who invented the lightning rod. We have a scorekeeper and an ethics judge; there is much head scratching and wrangling. I'm sure it's health-promoting on many levels.
But like many rituals, breakfast and the quiz at the Waterbird took a little getting into. Before something becomes a ritual, you have to try it on, and things don't fit perfectly at first. The jokes aren't always funny, the food is not to everyone's taste, sometimes it's too sunny or too cold out there on the deck – but on balance it's pretty good. So you do it again, and then again, and by the third or fourth time you're hooked. This is the birth of a ritual.
When I look closely, my life is punctuated by many rituals. Rick and I have a coffee and work on a New York Times crossword most days. We celebrate a birthday with a movie and dinner out. We call our kids every Monday. A beer on the deck marks a satisfying conclusion to a few hours in the gardens or behind the lawnmower.
The Shedders also have their rituals. For example, we get together most evenings for a shared meal; that's just how it works here. On a Friday morning more often than not we're all engaged in housecleaning. Every year on 31 December we sit down together and review our year-just-gone, sharing the highs and lows and learnings; a day or two later we assemble again and share our dreams and aspirations for the coming year. Every January we pack up our cars and travel up to Camp Creative for a week of community, learning and creation. And if someone's been away for a while, there's automatically a cup of tea and some sharing in the lounge room. These are the rituals that lubricate our Shedders lives.
What IS it about rituals? As I sit here on a Saturday afternoon, after perhaps the 200th time laughing with good friends and doing the quiz, I find myself trying to tease out the nature of ritual, and its purpose.
Transitions
When the Shedders first moved to Mitchells Island, we left behind dozens of under-acknowledged rituals. They needed replacing. We softened the transition to this whole new life by the creation of such rituals as breakfast-and-the-quiz. The transition from living as an independent family unit to sharing a cooperative household was aided by rituals like shared evening meals and loud music while housecleaning. Change is good; perhaps we all have a deep need for it – and rituals give us stability in the face of these fresh starts.
Our personal stories
Rituals also allow us to tell a story that helps explain who we are – for others and for ourselves. Knowing I always enjoy doing the Saturday quiz with a group of friends tells you some key things about me – that I relish being with my friends, that I am stimulated by the challenge of the quiz and the interactions we have while we do it, that I cherish the beauty and serenity of the Waterbird's location.
When I tell you that I love attending our Wingsong community choir (not to mention going out for dinner at the pub afterward), it also tells you any number of things about me. That I get together with old school friends every year when I am back in Canada, that I never miss a Medd Family Annual Picnic – these rituals remind me how much I enjoy the power of family, friends, music in my life.
Signposts
I can see another important quality of rituals. When I look back at the peaks and valleys of my life, I often think of the old rituals that marked its passage. My farmer-father making fudge in the kitchen on a rainy day. Camping at Christmas time with 3 or 4 other families when our children were young. Taking the kids out for Friday dinner at Manly Wharf when the business had met its targets. These events have meaning for me even decades after their expiry.
As rituals connect us to ourselves, they also connect us to each other. The simplest way for my communities to prosper is to create rituals where we can put our opportunities to get together on auto-pilot. We don't have to think, plan, phone around, negotiate. We just show up at the Waterbird, we go to choir and the pub, we pack up our suitcases for Camp Creative. In this way our communities thrive.
It's a grand design.
If you'd like little more convincing, read this article that proves rituals can even be taken on the road.
read more
One of the blessings of this quiet Corona Time is my long-established yoga practice. I've always thought of my yoga practice as an investment, as good as superannuation. Nearly 50 years of practice, and I can call on my investment deal with the stress of self-isolation. There are other solid regular rituals, too: walking on the beach, dinner with my housemates, phone calls to the kids and to my family in the States.
read more
Camp Creative–Fertile Ground for Creativity
It's several days now since returning from a week at Camp Creative. This event, based in Bellingen, has something for everyone. Sixty different courses representing music, visual arts, writing, crafts, young people's activities, dance, lifestyle, and voice. A remarkable time, as evidenced by the concert of performing artists who came together on the last night. This is a showcase for creative work in the areas of instrumental music, singing and dance. Some performers were first-timers, others more seasoned, all with their creative juices flowing.
I particularly like seeing the range of ages represented. […]
read more
It's been out of print for 15 or more years but now it's back. It's available as a paperback as well as a range of digital formats for different devices. The design of this edition is modelled as closely as possible on the original release from 1997.
(Note: Book retailers set their own prices that are all different and constantly change.  It's worth shopping around for the best price.)
Any bookshop, whether online or bricks and mortar, can order copies of Teach Yourself Yoga.  Just ask and quote ISBN: 978-0-6487945-0-9.
Please send me feedback about the book.  I'd love to hear about any errors or problems with eBooks on various devices.  And please review the book wherever you get it.  Reviews will help more people discover the book.
Yoga Basics Pack. $24.95
10-week beginners Yoga course.
Specially designed for beginners, Yoga Basics is an easy to follow program for better health, flexibility and peace of mind. This pack contains 10 beautifully illustrated cards, one for each week of a ten-week course that tie a clear, practical and portable guide to getting started in yoga.
Yoga Tool Kit. $24.95
10 beautifully illustrated cards that give clear, practical and portable programs to meet a variety of needs. The customised sequences help provide holistic healthcare – better health, flexibility and peace of mind – so you can stay on top of your daily requirements with a safe and effective regime. Practices for boosting the immune system, insomnia, menstruation, post travel, low backache, stress and anxiety relief, fatigue, encouraging mental balance, managing menopause and regenerating.
I'm currently teaching two weekly classes on the Mid-North Coast of New South Wales where I live. I also lead workshops here and in other parts of Australia.
I've been regularly contributing to this blog since 2009. There are now over 1250 posts about a very wide range of topics. Click here to explore.
Books, videos, teachers, websites, places to buy really hot yoga clothes (kidding), and generally anything I find that I think others might find useful.
I've been teaching since I was 35. I'm now 76. In that time there have been a few changes. Click here if you want to find out a bit about my life.
No, I'm not selling yoga mats or clothing. I don't even have a t-shirt... yet. But from time to time I find myself with something that someone may want. Have a look, I'm never sure what you'll find.