Between 14 May 2012 and 22 February 2013 I worked my way through the 196 Sutra of Patanjali. I called the project "A Sutra a Day". I tried to relate each of the Sutra to my life in a personal way. Here are the results.
Click here
Eve Grzybowski
Yoga Suits Her
I've been teaching yoga since 1980. A lot of my identity is tied up with being a yoga teacher. What does that mean? What should that mean? On this site I explore my personal journey and provide commentary on the state of yoga in the twenty-first century. I invite you to have a look and see what may be here for you.
Photo by: Julie Slavin Photography, Old Bar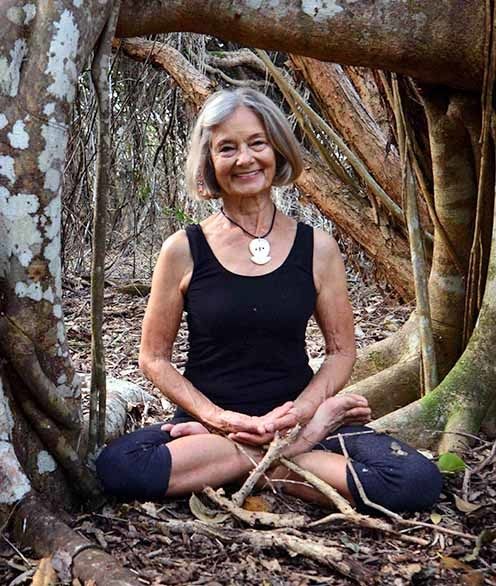 Featured videos from my YouTube channel
I've been adding meditations, short instructional video and an ever-growing selection of complete yoga classes. Click on any of these below videos to view them directly. Or click on the button below to explore the entire channel.
An old classic modernised
Walk into any bookshop today (assuming you can find one) and you'll see whole shelves of yoga books. It wasn't like that in 1997. Back then, yoga was only slowly becoming mainstream. Information was still hard to find.
I decided that I needed to write a book based on my years of teaching and practising yoga.
This book would express one of my passions. It would help people, no matter their level of experience, take up home practice.
I sold my book idea, 'Teach Yourself Yoga' to a publisher. My editor wasn't much for doing exercise. She said: If you can write this book so that even I feel inspired to get up and do yoga, you will have succeeded. I was delighted when I sent her the first chapter and she congratulated me with the words, Keep on keeping on!
Despite having no prior book writing experience, it took me only five months to write the book. I finished it on the exact day it was due.
It was a kick to see my book being sold in major bookshops and in airport terminals. 'Teach Yourself Yoga' sold well enough that the publisher did another print run. That one sold, too.
Eventually I bought the book rights and did several print runs of a spiral bound version of the book. Then, I wrote another book, sold my yoga studio and moved to the country. My love for writing about yoga was channelled into blogging, which I've done for over 14 years.
In the back of my mind, and encouraged by my husband Daniel and dear friend Collyn Rivers, I've thought about bringing Teach Yourself Yoga back to life. Now, this classic book has moved with the times. There's a modern version for tablets of all kinds, as well as print-on-demand for those who like holding real books or having them on their bookshelves.
I feel quite affectionate about this book. I believe it does deliver on its promise of inspiring the reader to do yoga, to follow the simple programs and to reap the many benefits of this ancient discipline. It is written in an accessible, inclusive style to reach a wide audience of young and old, male and female and people from all walks of life.
I think the book's photographic models are inspiring, their ages spanning the decades from 30's to late 60's. I can say that even though we have all aged since the photos were taken, yoga has kept us in good health since 'Teach Yourself Yoga' was first published.
Where can you get 'Teach Yourself Yoga'?
Paperback.

If you live in the USA or Europe you can get the paperback from Amazon for US$15.95. https://www.amazon.com/dp/0648794504/ref=rdr_ext_tmb. The book is print-on-demand - they have machines that will produce just the one book you want in a few days. It's great if you live in the US, Canada or Europe where they have the machinery to produce the books.

Avoid getting the book from Amazon if you live in Australia.  Amazon doesn't do their printing here. Delivery is only promised to be dispatched in a month or two and is only free for Prime members.

The book has now been widely released by IngramSpark Publishing, so local on-line bookshops should begin listing it soon.  The best option right now is the Book Depository (bookdepository.com).  They are selling it for A$20.67 with free delivery. Shipping is within 3 business days.

eBook.

The Kindle version is available from Amazon.  US$7.41 or A$11.99.

Booktopia sells the ePub version which works on Kobo, iOS, Android.  A$12.35.

It should be available on Apple Books soon for the iPad. 
I hope you'll get yourself a copy of 'Teach Yourself Yoga', and if you do, please add your review to the site. This will make the most difference to sales and will encourage others to be inspired to do their own practice. As we know, personal practice is so rewarding. It has the potential to make yoga your companion for life.
read more
I feel quite affectionate about this book. I believe it does deliver on its promise of inspiring the reader to do yoga, to follow the simple programs and to reap the many benefits of this ancient discipline. It is written in an accessible, inclusive style to reach a wide audience of young and old, male and female and people from all walks of life.
read more
Camp Creative–Fertile Ground for Creativity
It's several days now since returning from a week at Camp Creative. This event, based in Bellingen, has something for everyone. Sixty different courses representing music, visual arts, writing, crafts, young people's activities, dance, lifestyle, and voice. A remarkable time, as evidenced by the concert of performing artists who came together on the last night. This is a showcase for creative work in the areas of instrumental music, singing and dance. Some performers were first-timers, others more seasoned, all with their creative juices flowing.
I particularly like seeing the range of ages represented. […]
read more
It's been out of print for 15 or more years but now it's back. It's available as a paperback as well as a range of digital formats for different devices. The design of this edition is modelled as closely as possible on the original release from 1997.
(Note: Book retailers set their own prices that are all different and constantly change.  It's worth shopping around for the best price.)
Any bookshop, whether online or bricks and mortar, can order copies of Teach Yourself Yoga.  Just ask and quote ISBN: 978-0-6487945-0-9.
Please send me feedback about the book.  I'd love to hear about any errors or problems with eBooks on various devices.  And please review the book wherever you get it.  Reviews will help more people discover the book.
Yoga Basics Pack. $24.95
10-week beginners Yoga course.
Specially designed for beginners, Yoga Basics is an easy to follow program for better health, flexibility and peace of mind. This pack contains 10 beautifully illustrated cards, one for each week of a ten-week course that tie a clear, practical and portable guide to getting started in yoga.
Yoga Tool Kit. $24.95
10 beautifully illustrated cards that give clear, practical and portable programs to meet a variety of needs. The customised sequences help provide holistic healthcare – better health, flexibility and peace of mind – so you can stay on top of your daily requirements with a safe and effective regime. Practices for boosting the immune system, insomnia, menstruation, post travel, low backache, stress and anxiety relief, fatigue, encouraging mental balance, managing menopause and regenerating.
I'm currently teaching two weekly classes on the Mid-North Coast of New South Wales where I live. I also lead workshops here and in other parts of Australia.
I've been regularly contributing to this blog since 2009.  There are now over 1250 posts about a very wide range of topics. Click here to explore.
Books, videos, teachers, websites, places to buy really hot yoga clothes (kidding), and generally anything I find that I think others might find useful.
I've been teaching since I was 35. I'm now 76. In that time there have been a few changes. Click here if you want to find out a bit about my life.
No, I'm not selling yoga mats or clothing. I don't even have a t-shirt... yet. But from time to time I find myself with something that someone may want. Have a look, I'm never sure what you'll find.