Between 14 May 2012 and 22 February 2013 I worked my way through the 196 Sutra of Patanjali. I called the project "A Sutra a Day". I tried to relate each of the Sutra to my life in a personal way. Here are the results.
Click here
Eve Grzybowski
Yoga Suits Her
I've been teaching yoga since 1980. A lot of my identity is tied up with being a yoga teacher. What does that mean? What should that mean? On this site I explore my personal journey and provide commentary on the state of yoga in the twenty-first century. I invite you to have a look and see what may be here for you.
Photo by: Julie Slavin Photography, Old Bar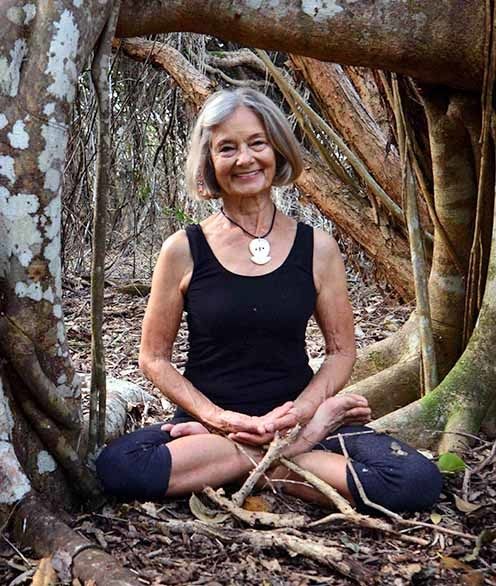 Featured videos from my YouTube channel
I've been adding meditations, short instructional video and an ever-growing selection of complete yoga classes. Click on any of these below videos to view them directly. Or click on the button below to explore the entire channel.
If you would like to make a donation to my continuing to create my videos and recordings, please click HERE.
All of my videos are also available on this website.

Loving kindness
At the beginning of 2020, I took on a powerful resolution: I would do a daily loving kindness meditation. I love this practice as a way of healing not just me, but all beings and the planet too. It's a way of expanding the field of love and kindness on the planet. Never was it a more necessary practice than right now.
I discovered the value of this practice when my husband and I were travelling around Australia with our camper. Over five months of periodic cold and rainy weather, I was often unable to do my physical yoga practice. Fortunately, I had a collection of meditation recordings for the trip. I ended up following these daily, rain or shine.
Have you ever been camping with your spouse and other family members? Then you know that being in close quarters 24/7 will tax you, body, mind and spirit.
I won't say that my daily practice turned me into a perfect travelling companion. But something shifted that helped me not take things so personally. I became more detached from comments that I might have misinterpreted. Petty power struggles about the best way to unpack or pack up became fewer.
What might have been an unpleasant trip instead became the time of our lives.
You'd think I would have embraced loving kindness forever after having such a positive experience. Being human though, when I returned home, I hit the ground running. I almost abandoned my loving kindness practice.
I began the practice again early last year as I experienced heightened concerns about the climate crisis. I thought we'd experienced the worst with Australia's drought and bushfire disasters.
But now, we are facing a global pandemic.
'Now normal'––prolonged uncertainty
Our collective anxiety levels have been seriously ratcheted up by the threat of COVID-19. The word 'unprecedented', which was applied to the drought and bushfires of 2019, is an easy fit for our current emotional reactions. This quote is from the ABC: 'Anxiety is a normal, natural response to an unprecedented threat of illness, stress, and restricted life.'
Another mot du jour is 'uncertainty'. Most of us have not lived through such perilously uncertain times. We crave having the old normal return or speculate on what the new normal will bring.
But the truth is that there never was a time of normalcy. Buddha understood this and made impermanence one of the fundamental concepts of Buddhism.
Wikipedia describes the impermanence of life:
'All temporal things, whether material or mental, are compounded objects in a continuous change of condition, subject to decline and destruction.'
This basic belief asks us to step up to the reality that we need to deal with life as it presents, even when it is being fired point blank at us.
In a recent article in The Irish Times, Dr Maureen Gaffney, a clinical psychologist, offers some inspiration for the dilemma we are in. She suggests that we are asking the wrong question: when is this crisis going to end? She writes:
The question is how we are going to keep going. All we have before us now, and for a long time to come, is the "now normal", a prolonged period of uncertainty.
A tool for you
The time is ripe for meditation, for learning to live in the now. Loving kindness meditation is a perfect practice for our times as it helps not just us as individuals but all beings.
Here's a YouTube loving kindness practice that we created to help in these uncertain times. It is my wish that it will launch you into a regular loving kindness practice.
read more
At the beginning of 2020, I took on a powerful resolution: I would do a daily loving kindness meditation. I love this practice as a way of healing not just me, but all beings and the planet too. It's a way of expanding the field of love and kindness on the planet. Never was it a more necessary practice than right now.
read more
Sometimes we need to retreat to go forward. 
In my mind, attending a yoga retreat is the best way to go forward in your yoga practice. I would venture to say, even in your life, as retreats offer you periodic renewal.
When Sydney was still my base, I lead retreats in the lower Blue Mountains over a 12 year period. Twice a year our students attended these weekends of inspiration, regeneration and enjoyment. We yoga teachers of Sydney Yoga Centre experienced similar benefits to the students and returned to the city renewed. […]
read more
It's been out of print for 15 or more years but now it's back. It's available as a paperback as well as a range of digital formats for different devices. The design of this edition is modelled as closely as possible on the original release from 1997.
(Note: Book retailers set their own prices that are all different and constantly change.  It's worth shopping around for the best price.)
Any bookshop, whether online or bricks and mortar, can order copies of Teach Yourself Yoga.  Just ask and quote ISBN: 978-0-6487945-0-9.
Please send me feedback about the book.  I'd love to hear about any errors or problems with eBooks on various devices.  And please review the book wherever you get it.  Reviews will help more people discover the book.
Yoga Basics Pack. $24.95
10-week beginners Yoga course.
Specially designed for beginners, Yoga Basics is an easy to follow program for better health, flexibility and peace of mind. This pack contains 10 beautifully illustrated cards, one for each week of a ten-week course that tie a clear, practical and portable guide to getting started in yoga.
Yoga Tool Kit. $24.95
10 beautifully illustrated cards that give clear, practical and portable programs to meet a variety of needs. The customised sequences help provide holistic healthcare – better health, flexibility and peace of mind – so you can stay on top of your daily requirements with a safe and effective regime. Practices for boosting the immune system, insomnia, menstruation, post travel, low backache, stress and anxiety relief, fatigue, encouraging mental balance, managing menopause and regenerating.
I'm currently teaching two weekly classes on the Mid-North Coast of New South Wales where I live. I also lead workshops here and in other parts of Australia.
I've been regularly contributing to this blog since 2009. There are now over 1250 posts about a very wide range of topics. Click here to explore.
Books, videos, teachers, websites, places to buy really hot yoga clothes (kidding), and generally anything I find that I think others might find useful.
I've been teaching since I was 35. I'm now 76. In that time there have been a few changes. Click here if you want to find out a bit about my life.
No, I'm not selling yoga mats or clothing. I don't even have a t-shirt... yet. But from time to time I find myself with something that someone may want. Have a look, I'm never sure what you'll find.