Between 14 May 2012 and 22 February 2013 I worked my way through the 196 Sutra of Patanjali. I called the project "A Sutra a Day". I tried to relate each of the Sutra to my life in a personal way. Here are the results.
Click here
Eve Grzybowski
Yoga Suits Her
I've been teaching yoga since 1980. A lot of my identity is tied up with being a yoga teacher. What does that mean? What should that mean? On this site I explore my personal journey and provide commentary on the state of yoga in the twenty-first century. I invite you to have a look and see what may be here for you.
Photo by: Julie Slavin Photography, Old Bar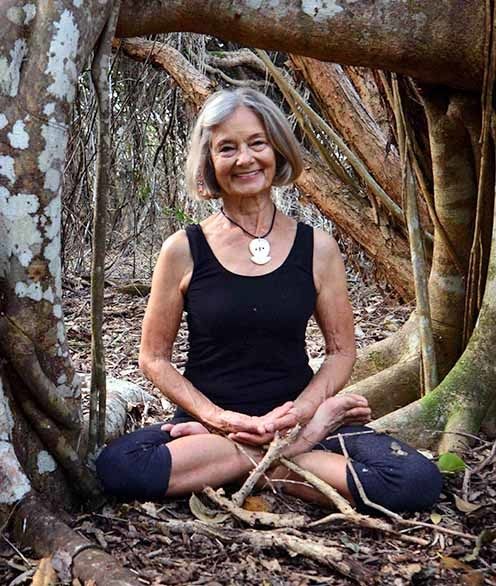 Featured videos from my YouTube channel
I've been adding meditations, short instructional video and an ever-growing selection of complete yoga classes. Click on any of these below videos to view them directly. Or click on the button below to explore the entire channel.
If you would like to make a donation to my continuing to create my videos and recordings, please click HERE.
All of my videos are also available on this website.
Here is the Hindu God, Ganesha, still sporting the beanie he wore at Christmas. His post is at the entrance to the Yoga Shed at Mitchells Island. He signals a friendly welcome to all students. As you can see, Ganesha has mastered the art of relaxation. He has the look of someone who has transcended the need to do physical yoga postures, or any exercise at all.
In his role as the harbinger of new beginnings, I can imagine that Ganesha is also welcoming us into the New Year. By all accounts, many of us are pinning our hopes on a simpler, more certain, healthier, less restricted new year. Ganesha can help with this too, as he is known to be the remover of obstacles. We can invoke help from this deity in eliciting inventiveness and creativity in squaring off with uncertain times.
By extension, we could probably adopt Ganesha as the Muse for our New Year's resolutions. If, for instance, we are planning on beginning a year of regular yoga practice, healthy eating or being kinder to ourselves and others.
If you are a student of yoga philosophy, the first of January equals the 'now' part of Patanjali's first sutra, "Atha Yoga-Anusasanam". The word 'atha' announces, 'Now.  Let's get down to business - let's begin.'
The truth is that every moment is a fresh start. A new opportunity to share your goodwill. To cultivate loving kindness. To stop by the roadside and admire a sunset. To ring a friend who you've been thinking about. To finally get the good china out just for you. To learn some circus skills. To read 'Lord of the Rings' (again). To walk on the beach in the rain. Or sun. Or wind. To be a little less fearless.
I wish you happy beginnings, Ganesha's blessings, on whatever you choose to make of this precious day and year!
read more
January is 'The Month of Good Intentions.  It's the time to get back on track if you've taken a detour off the straight-and-narrow. January first is a blank canvas, a fresh sheet of print paper, a blank slate.
read more
On questionnaires that ask for me for my occupation, I write in 'semi-retired'. That's shorthand to describe that I work sometimes. At other times, I participate in various kinds of recreation, such as singing or tennis. I study a bit, and I also volunteer in the community in Palliative Care.
Though semi-retired, I haven't cut back on my yoga practice. That's just as well as I'm busier than I ever was when I worked full-time. This seems to be a common feature of those who profess to being semi-retired.
From time to time, I wear myself out completely.
read more
It's been out of print for 15 or more years but now it's back. It's available as a paperback as well as a range of digital formats for different devices. The design of this edition is modelled as closely as possible on the original release from 1997.
(Note: Book retailers set their own prices that are all different and constantly change.  It's worth shopping around for the best price.)
Any bookshop, whether online or bricks and mortar, can order copies of Teach Yourself Yoga.  Just ask and quote ISBN: 978-0-6487945-0-9.
Please send me feedback about the book.  I'd love to hear about any errors or problems with eBooks on various devices.  And please review the book wherever you get it.  Reviews will help more people discover the book.
Yoga Basics Pack. $24.95
10-week beginners Yoga course.
Specially designed for beginners, Yoga Basics is an easy to follow program for better health, flexibility and peace of mind. This pack contains 10 beautifully illustrated cards, one for each week of a ten-week course that tie a clear, practical and portable guide to getting started in yoga.
Yoga Tool Kit. $24.95
10 beautifully illustrated cards that give clear, practical and portable programs to meet a variety of needs. The customised sequences help provide holistic healthcare – better health, flexibility and peace of mind – so you can stay on top of your daily requirements with a safe and effective regime. Practices for boosting the immune system, insomnia, menstruation, post travel, low backache, stress and anxiety relief, fatigue, encouraging mental balance, managing menopause and regenerating.
I'm currently teaching two weekly classes on the Mid-North Coast of New South Wales where I live. I also lead workshops here and in other parts of Australia.
I've been regularly contributing to this blog since 2009. There are now over 1250 posts about a very wide range of topics. Click here to explore.
Books, videos, teachers, websites, places to buy really hot yoga clothes (kidding), and generally anything I find that I think others might find useful.
I've been teaching since I was 35. I'm now 76. In that time there have been a few changes. Click here if you want to find out a bit about my life.
No, I'm not selling yoga mats or clothing. I don't even have a t-shirt... yet. But from time to time I find myself with something that someone may want. Have a look, I'm never sure what you'll find.