Between 14 May 2012 and 22 February 2013 I worked my way through the 196 Sutra of Patanjali. I called the project "A Sutra a Day". I tried to relate each of the Sutra to my life in a personal way. Here are the results.
Click here
Eve Grzybowski
Yoga Suits Her
I've been teaching yoga since 1980. A lot of my identity is tied up with being a yoga teacher. What does that mean? What should that mean? On this site I explore my personal journey and provide commentary on the state of yoga in the twenty-first century. I invite you to have a look and see what may be here for you.
Photo by: Julie Slavin Photography, Old Bar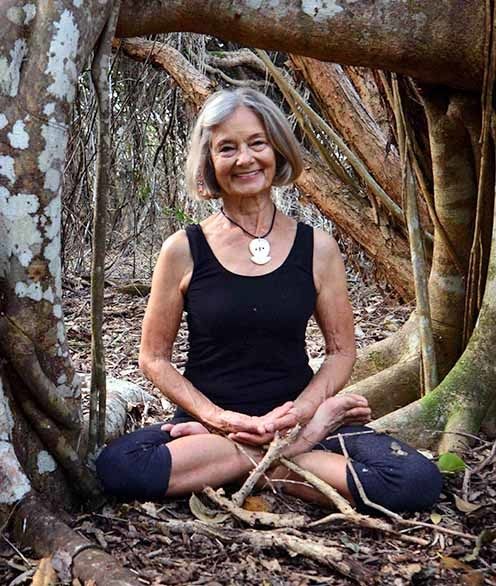 There are many ways of dealing with back pain. We can seek western or eastern medical treatment. We can lie in bed until the pain mercifully passes. If possible, we can ignore it, or even pray for a reprieve.
My friend and colleague, Denis Juelicher, recently learned some valuable lessons about surrender as a way of dealing with her back pain blues. Denis is director of the Yoga Shala in Port Macquarie and mover-and-shaker of the Ekam Festival.
Today's post is number two in the month I've set aside to explore the notion of self-care.
Here's Denis:
A couple of weeks ago I hurt my back in a major way. I mean in an I-can't-get-out-of bed-without-help sort of way. Not much fun.
It meant dealing with pain. It meant not being able to work. It meant stepping out of a fairly hectic time into a forced break. It was a major and very painful disruption of my life, but I surprised myself in my response to it. There was very little resistance and frustration. It was almost like a part of me was looking on, thinking "here is an opportunity to observe yourself in a bit of strife". And, "let's breathe into the pain and see what happens".
What happened was that I got some badly needed resting time. I accepted help. I learned new things about how my body works. And I was and still am amazed at how quickly I am recovering.
It made me reflect on how many of us - me included - like to be in control of life. And when life turns out to be quite different from what was planned, we struggle. So much energy is spent trying to get life to match our ideas of it, trying to get others act the way we want them to act, trying to be the person we'd like to be.
Yoga teaches us to be present and to observe. Without expectation of a result, without judgement. Being here without wanting the 'here' to be a certain way. That's the key lesson. That's what we get on the mat for.
One of the best things that came my way, while I was incapacitated was this quote from a wonderful meditation teacher, Jon Bernie:
Don't let your pain fool you into thinking you are having the wrong experience.
read more
There are many ways of dealing with back pain. We can seek western or eastern medical treatment. We can lie in bed until the pain mercifully passes. […]
read more
I've been enjoying a break from our routine life on Mitchell's Island this week, visiting such varied places as Uki, inner city Brisbane, and Sunshine Beach, Queensland. I've also had downtime from sitting at my computer, and as a result had some insights.
Out of necessity from being on the road, I've begun disconnecting from some of the social media and blog sites that send me regular updates through my email.
I hear people say that they don't have time to keep up with the plethora of information, advice, marketing and entertainment that shows up in their inbox. […]
read more
It's been out of print for 15 or more years but now it's back. It's available as a paperback as well as a range of digital formats for different devices. The design of this edition is modelled as closely as possible on the original release from 1997.
(Note: Book retailers set their own prices that are all different and constantly change.  It's worth shopping around for the best price.)
Any bookshop, whether online or bricks and mortar, can order copies of Teach Yourself Yoga.  Just ask and quote ISBN: 978-0-6487945-0-9.
Please send me feedback about the book.  I'd love to hear about any errors or problems with eBooks on various devices.  And please review the book wherever you get it.  Reviews will help more people discover the book.
Yoga Basics Pack. $24.95
10-week beginners Yoga course.
Specially designed for beginners, Yoga Basics is an easy to follow program for better health, flexibility and peace of mind. This pack contains 10 beautifully illustrated cards, one for each week of a ten-week course that tie a clear, practical and portable guide to getting started in yoga.
Yoga Tool Kit. $24.95
10 beautifully illustrated cards that give clear, practical and portable programs to meet a variety of needs. The customised sequences help provide holistic healthcare – better health, flexibility and peace of mind – so you can stay on top of your daily requirements with a safe and effective regime. Practices for boosting the immune system, insomnia, menstruation, post travel, low backache, stress and anxiety relief, fatigue, encouraging mental balance, managing menopause and regenerating.
I'm currently teaching two weekly classes on the Mid-North Coast of New South Wales where I live. I also lead workshops here and in other parts of Australia.
I've been regularly contributing to this blog since 2009.  There are now over 1250 posts about a very wide range of topics. Click here to explore.
Books, videos, teachers, websites, places to buy really hot yoga clothes (kidding), and generally anything I find that I think others might find useful.
I've been teaching since I was 35. I'm now 76. In that time there have been a few changes. Click here if you want to find out a bit about my life.
No, I'm not selling yoga mats or clothing. I don't even have a t-shirt... yet. But from time to time I find myself with something that someone may want. Have a look, I'm never sure what you'll find.
I put this Savasana on YouTube in 2012.
Since then it has been viewed (or listened to) over 365,000 times.